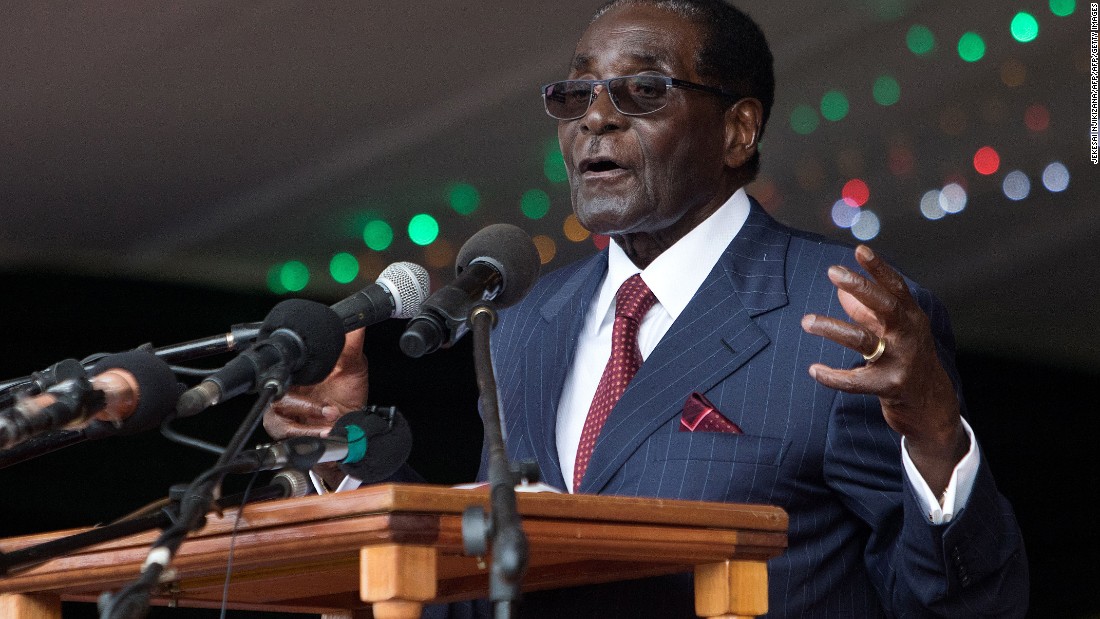 (CNN)One of Africa's longest-standing leaders has voiced his approval for US President Donald Trump and his nationalist stance.
In an interview with state television broadcaster ZBC-TV to mark his 93rd birthday, Zimbabwe President Robert Mugabe praised Trump, saying that he agrees with Trump's isolationist position, while encouraging the world to "give him time."
"Well, America for America, America for Americans — on that we agree," Mugabe said, during the interview, adding "Zimbabwe for Zimbabweans."
It is rare for the strongman to speak highly of any US leader. Although he said he was "surprised" by President Trump's election, he said he "did not like" Democrat candidate Hillary Clinton.
Earlier this month, Zimbabwe police
arrested Evan Mawarire
, the pastor who fled the country last year after leading protests against Mugabe's government.
Mawarire's #ThisFlag protest movement gained momentum among Zimbabweans on social media last year after he called on Mugabe's government to address a failing economy and to respect human rights.
He has long suppressed opposition to his government, effectively running unopposed in at least two elections, but in 2008 signaled a power-sharing deal with political rival Morgan Tsvangirai in order to end months of unrest.
That agreement ended in 2013 after Tsvangirai alleged widespread fraud in that year's election. Mugabe and his Zanu-PF party have run the country unopposed since then.
Mugabe has brought Zimbabwe to the brink of ruin during his almost-four decade tenure, with a campaign of land redistribution in 2000 and repeated
bouts of hyperinflation
, ruining the country's agriculture industry and economy.
Lavish birthdays
Mugabe's recent birthdays have been marked by outlandish celebrations, regardless of the economic hardships the country may be suffering.
In 2009 he
celebrated his 85th birthday
with a lavish all-day party despite the fact that the country was then gripped by economic and health crises.
At the time, Mugabe's nephew Patrick Zhuwawo said about 100 beasts would be slaughtered for the birthday bash.
This year's celebrations will be held in Matabeleland South province, and event organizers have appealed to local farmers to donate a total of 150 head of cattle for the celebrations, government-owned Herald newspaper
reported
.
"We have set a target to raise 150 cattle for the event," the newspaper quoted Matobo North legislator Never Khanye as saying.
"We are appealing to well-wishers to do so willingly and not come again tomorrow and say we were forced (to appropriate the livestock)."
Read more: http://www.cnn.com/2017/02/21/africa/mugabe-93rd-birthday-2018-election/index.html