President-elect Donald Trump praised Russian President Vladimir Putin on Friday afternoon, after the Russian leader said he would not expel any U.S. diplomats from his country.
Trump tweeted, "Great move on delay (by V. Putin) – I always knew he was very smart!"
It's shockingly direct praise from an incoming American president for a Russian leader who's been accused by U.S. intelligence agencies and President Barack Obama of overseeing hacking efforts aimed at influencing the 2016 election.
Trump's praise comes after Obama announced that he would sanction Russian intelligence agencies and expel 35 suspected spies that the U.S. thinks were involved in the hacking effort. Both the FBI and CIA agree that Russia used cyber attacks to try to tip the election toward the country's preferred winner: Trump.
"All Americans should be alarmed by Russia's actions," the president said in a statement on Thursday. The 35 operatives who will be expelled are currently posted at Russian diplomatic facilities in Washington and San Francisco. The sanctions also bar two Russian intelligence agencies, three companies and four intelligence officers from traveling into or doing business with the U.S.
Russians are also being barred from entering two compounds in Maryland and New York that the administration said were used for information-gathering.
But in response, Putin said he would not retaliate.
"While keeping the right for retaliatory measures, we will not descend to the level of … irresponsible diplomacy," the Russian leader said in a statement on Friday. Instead, Putin said he would await the incoming Trump administration to begin on Jan. 20 before making any decisions.
The choice drew applause from Trump. The president-elect pinned his tweet at the top of his feed, and the Russian embassy's official account retweeted it.
Trump repeatedly praised Putin and Russia during and after the 2016 campaign, and declined opportunities to criticize the Russian leader and his government for human rights abuses and military actions in Syria and the Ukranian territory of Crimea.
Trump specifically cited Putin's leadership, telling MSNBC last December, "When people call you 'brilliant' it's always good, especially when the person heads up Russia. He's running his country and at least he's a leader. You know, unlike we have in this country."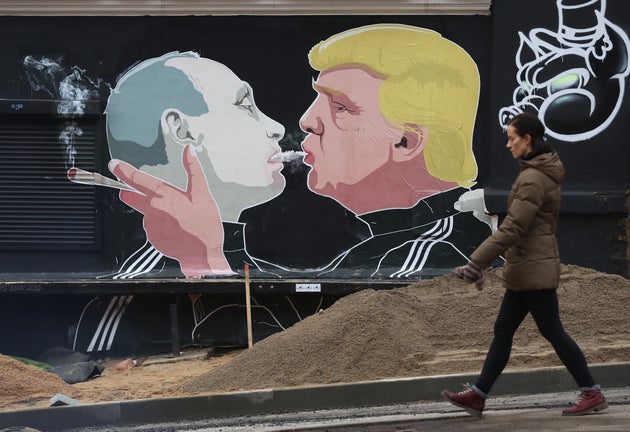 Trump told NBC's Matt Lauer in September of this year that Putin was a better leader than Obama, and declined to say that Russia should not interfere in U.S. elections. "I'm not going to tell Putin what to do. Why should I tell Putin what to do?" he said.
Most notably, during a press conference in July, Trump directly asked Russian intelligence agencies to hack into Hillary Clinton's email server.
"If they hacked, they probably have her 33,000 emails. I hope they do," Trump said. "Russia, if you're listening, I hope you're able to find the 30,000 emails that are missing."
Trump's interest in cozying up to Putin could be thwarted by established U.S. and Russian interests that directly collide, experts warn. Vladimir Frolov, a former adviser to the Russian government, told Foreign Policy he sees an inevitable end to the honeymoon.
"Many inside the elite believe it would be idiocy to chain Russia's fortune to the success of this wacko," he said. "They will get along just fine for about a year, or until one of them invades somewhere, and then all bets are off."
Trump's friendly comments towards Putin and Russia have drawn rebuke from within his own party. Senate Majority Leader Mitch McConnel (R-Ky.) has said bluntly that the "Russians are not our friends." However, McConnell reportedly told Obama prior to the election that if the administration were to release information about Russian hacking, he'd make it a partisan issue. Now, McConnell is part of a bipartisan group of senators calling for an investigation into Russian hacking.
House Speaker Paul Ryan (R-Wis.) put out a statement Thursday supporting the sanctions, and Sens. John McCain (R-Ariz.) and Lindsey Graham (R-S.C.) have been frequent critics of Putin and Trump's friendly comments toward him.
However, there are those in Trump's circle who seem to prefer a far closer relationship with Russia. Nigel Farage, the former leader of the nationalist U.K. Independence Party, tweeted that he was "pleased to see a mature response from Putin" after Obama's sanctions were announced.
Trump has also picked Exxon CEO Rex Tillerson as his nominee for secretary of state. In 2013, Putin awarded Tillerson with Russia's Order of Friendship. Exxon signed a contract for a joint venture with Russia's state-owned oil company in 2011, and now holds drilling rights to 63.7 million acres in the country.
Read more: http://www.huffingtonpost.com/entry/donald-trump-vladimir-putin_us_5866b8e1e4b0eb58648952e0