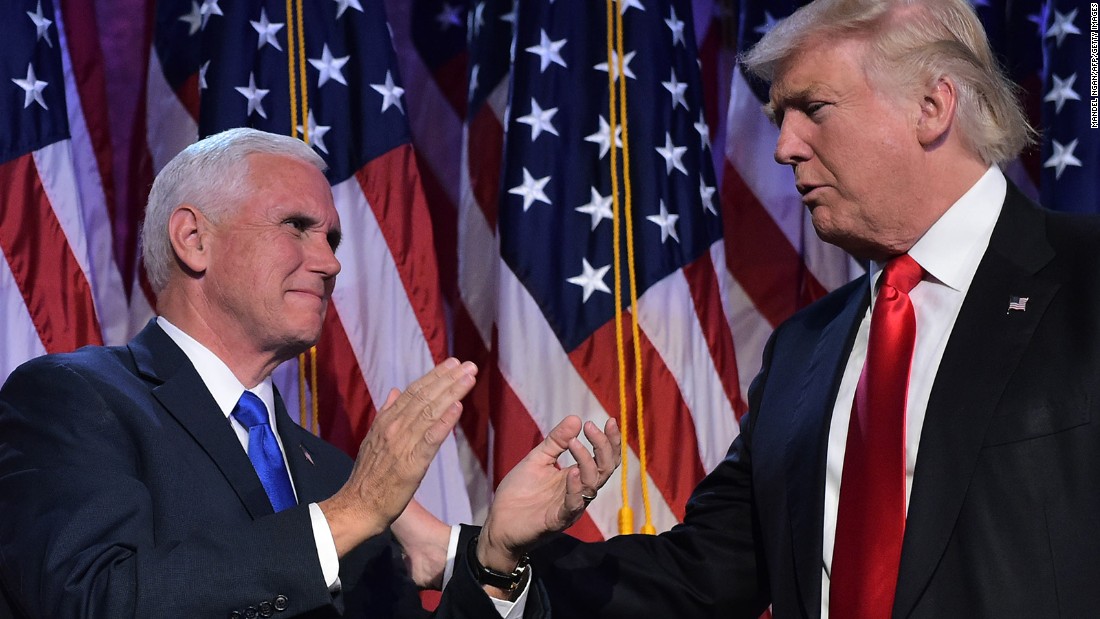 (CNN)Donald Trump and Mike Pence are telling supporters across the country that they will make a sea change in decades old government policies before winter's cold has thawed, raising expectations for the first 100 days of their new administration.
Pence and Trump, in the post election euphoria that comes with winning, have laid out dozens of promises that they say they will achieve in the first few months of 2017, including repealing Obamacare, beefing up military spending and dramatic changes in tax policy.
At events in the last week both have said they intend to achieve these goals mere weeks after moving to Washington, telling supporters that they intend to be in the "promise keeping business."
"Right out of the box our President-elect is going to be in the promise keeping business," Pence said at a Heritage Foundation gala on Tuesday night where the former Indiana governor pledged to not only cut taxes and simplify the tax code, but to also do it within weeks of entering the White House.
Trump and Pence's big plans contrast to some of the other past incoming tickets, who after winning the White House have tried to ratchet back rhetoric and manage expectations.
That isn't Trump's style, though. He and his running mate have set expectations high for the new administration and while they will enjoy control of both houses of Congress, the Republican duo will have to work at a break neck pace to actually achieve all that they are promising.
Domestic issues: Repeal Obamacare, Cut taxes
Pence's speech to the conservative think tank was rife with promises to the Republican faithful, many of whom had bank rolled the Trump campaign.
"Before we get to this spring, I promise you, we are going to cut taxes across the board for working families, small businesses and family farms," Pence said blocks from the White House. "We are going to simplify the tax code, lower business taxes in America from 35% to 15% so companies in America can compete."
Trump also has promised "the biggest" tax cuts since Ronald Reagan's in 1982 and 1984.
"This includes lowering the tax rate on business, from 35% all the way down to 15% and massive tax cuts by the way for middle class workers," he said at a rally this week.
Before that, though, Pence said the Trump administration's first priority will be repealing Obamacare, President Barack Obama's signature domestic achievement that aimed to provide healthcare for all Americans.
"We're going to repeal it and replace it," Trump said in an interview with CBS after his win.
Unlike some of Trump and Pence's other promises, that effort has had vocal support from leaders in Congress. Senate Majority Leader Mitch McConnell also said this week that repealing Obamacare would be the first issue of next year for his chamber.
Military and veterans spending: Rollback Sequester, fix VA
Trump specifically outlined military priorities on Tuesday during an event in Fayetteville, North Carolina — a city adjacent to Fort Bragg, the largest military base in the world.
"We seek peace through strength. That is why in my first budget report to Congress I am going to ask for the elimination of the Defense Sequester," Trump said of across the board cuts on defense spending. "Depletion, I call it depletion."
Trump promised "change like you've never seen before" at the scandal and delay plagued Veterans Affairs administration.
At Pence's speech this week, he also promised that the "Obama era of weakening our national defenses is over" because he and Trump will "restore the arsenal of democracy" and give the military "the resources and training they need to protect our nation and they are going to hunt down and destroy ISIS at its source."
All of this, however, will have to go through Congress and while there is agreement on broad strokes, some Republicans disagree with certain aspects of Trump's plan.
Democrats keep track
Democrats are watching Trump's victory tour with a mix of glee and dread. While many are reeling from defeat last month, those tasked with rebutting the President-elect see his promises as an avenue to tweak him once he steps into the White House on January 20.
Paul Begala, a longtime Clinton adviser and CNN contributor, said that the transition period is usually the time that candidates "try to ease off on the afterburners" and tell the American people that their promise are going to be difficult to achieve.
"He did not, I mean he'll still in overdrive," Begala said. "And if I were a Trump adviser I would still worry that we are going to over promise and under deliver. And he really set the bar high."
Begala, who advises Priorities USA, a Democratic super PAC, added: "Believe me, my Democrats are recording every minute of (these promises) on videotape."
Read more: http://www.cnn.com/2016/12/07/politics/donald-trump-mike-pence-promises-policy/index.html