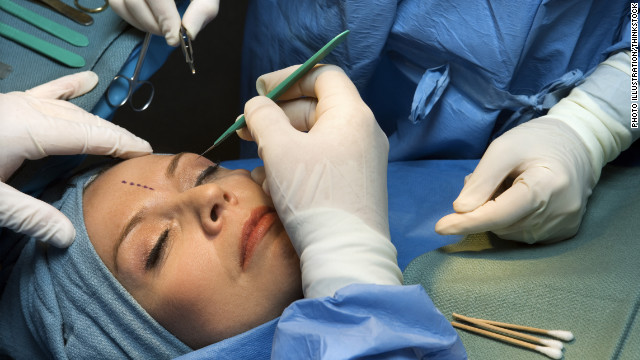 (CNN)Cosmetic procedures are still increasingly popular in the United States, and a new report shows that most Americans are going under the knife to either change their faces or get rid of fat.
Though the new numbers mirror previous data, certain trends are emerging.
Vaginal, buttocks enhancements are trending
Nearly 1.8 million surgical cosmetic procedures and about 15.5 million minimally invasive ones were performed in the US last year, according to information from an annual survey and a
national database system
in which plastic surgery society members report the procedures they performed.
The top five surgical procedures were:
The top five minimally invasive procedures were:
For instance, brow lifts were common in the 1980s and '90s but have been supplanted mainly by Botox and fillers over the past 15 years, Broumand said.
"Aging now is thought of as the grape to the raisin. Before, it was thought about as 'let's cut away extra skin,' but now it's volume," Wong said.
"So, grape to raisin, you have to plump the raisin," he said. "I see a lot of patients that are, by the calendar, older, but they look younger. … They have not had surgery, but they have had Botox and a conservative and appropriate use of injectable fillers that slow the appearance of aging."
Fillers also might have grown in popularity due to their use in
lip augmentation
. In 2015, 19-year-old reality star
Kylie Jenner
admitted in an episode of "Keeping up With the Kardashians" that she uses temporary fillers to plump her lips.
For patients who are interested in any cosmetic procedure, Dr. Debra Johnson, president of the American Society of Plastic Surgeons, offered some advice.
"Plastic surgery is one of the only fields where there are a lot of non-plastic surgeons providing cosmetic services," she said. "We always encourage patients to do their homework, make sure that their plastic surgeon is board-certified, that they're well-trained in the procedures that the patient wants."
Read more: http://www.cnn.com/2017/03/01/health/plastic-surgery-most-popular-study/index.html