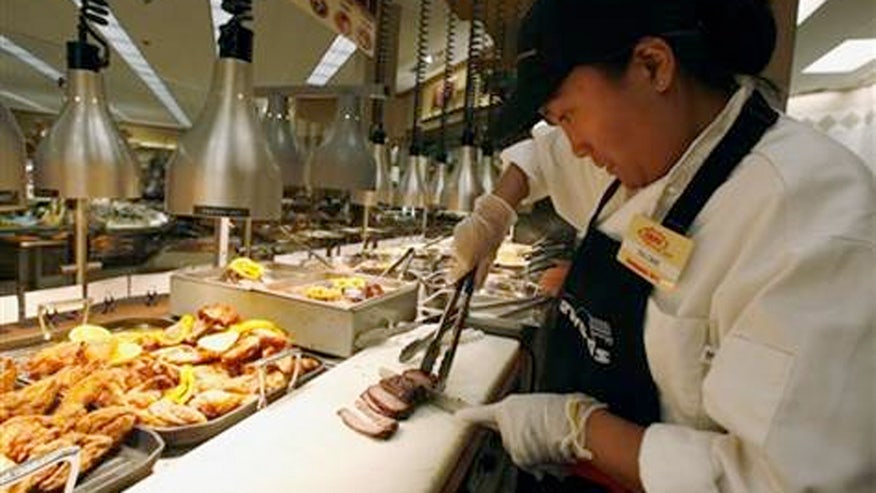 Barbecued pulled pork with garlicky greens. Spicy tuna rolls with avocado. Artichoke asiago rice croquettes. Are they menu choices at a white-tablecloth restaurant? These days, youre just as likely to find prepared meals like those at your local supermarket. According to a survey of almost 63,000 Consumer Reports subscribers, more than half buy meals at the fresh prepared-food counter of the grocery store. In fact, preapred meals have become almost a $29 billion-a-year business, growing twice as fast as overall grocery store sales.
Wendy Rose, 53, is one such consumer. She works full-time as a program manager for a nonprofit, and depends on prepared foodssuch as adobo chicken and kale, cranberry, and pecan saladfrom Whole Foods and Union Market to help get dinner on the table for her family of three in Brooklyn, N.Y. A few times a week, she or her husband pick up part of their meal from the prepared-food counter to supplement what they make themselves. So mini meatloaves are paired with their own mashed potatoes and green beans. We all want to be sitting down at the table together, she says. Anything thats going to help that happen is a winner.
Convenience may have fueled this trend, but whats keeping it going is a desire for meals we think are healthier than traditional takeout or dinners from the frozen-food aisle. Consumers want the time savings they could get from a fast-food restaurant, but fresher, healthier meal options and more customized choices, says Karen Buch, R.D.N., L.D.N., a consultant to the food industry who spent a dozen years as a supermarket dietitian.
More on Prepared Foods
How Prepared Foods Stack Up to Frozen Meals and Restaurant Takeout
From Our Experts: Buying Prepared Food
America's Best SupermarketsAnd Worst
Consumer Reports wanted to find out whether this burgeoning breed of convenience food is actually fresh and healthful. Our nutrition experts and secret shoppers scanned the prepared-food cases at six major supermarket chains in the Northeast. They made several visits over four weeks last spring to see which dishes were offered regularly. With that information in hand, we chose 24 prepared mealsentrées and side dishesthat were a mix of such basics as rotisserie chicken or mashed potatoes; upscale dishes, such as Parmesan-crusted tilapia, and healthier-sounding fare, such as edamame-cranberry salad.
Then shoppers went to at least three locations of each chain, where they bought the selected dishes and asked counter personnel questions about where the food was prepared and whether nutritional information was available. All three samples of each dish were analyzed in a laboratory for calories, fat, saturated fat, sodium, andfor foods expected to contain itfiber. (Download a PDF of Nutrition by the Numbers for a list of the average values.)
Our testing and analysis revealed some surprising findings that smart food consumers need to know.
1. Freshly Made Doesnt Always Mean Fresh Ingredients
Not all stores promise that the preapred meals they sell are fresh and not processed. But thats certainly the implication; by going to a bustling counter with chef-like personnel, you might think youre getting a meal thats something close to homemade in the traditional sense of the word.
But youd be wrong to assume that there are always cooks in the back peeling and mashing potatoes or dipping chicken cutlets into egg and breadcrumbs. In fact, only about half of the prepared meals we purchased for our tests were made on the premises, according to the store clerks who were quizzed by our secret shoppers.
None of the supermarkets we went to made every dish they sold in-house. Whats more, our investigation revealed that some dishes werent even prepared in the same ZIP code as the store. In-store preparationa kitchen in every locationcarries high costs. As a result, those stores that make dishes on-site charge accordingly.
So where does most of the prepared food sold in supermarkets come from? Some chains use centralized kitchens to prepare big batches of ready-to-serve dishes such as soup, then deliver them to stores.
Others provide meal solutions that consumers perceive to be fresh but in fact have been delivered frozen [to the supermarket] and are reheated in the store kitchen, according to a report from the consulting and research firms A.T. Kearney and Technomic.
Neither option produces dishes that are necessarily free of preservatives or other ingredients youll find in processed food. The mashed potatoes we bought from two ShopRite locations, for instance, contained sodium benzoate, a preservative, and disodium pyrophosphate to maintain color. Costcos mac and cheese contained artificial color, and Wegmans chicken Parmesan contained wheat gluten.
Sometimes the meals were actually made with packaged processed foods. The creamy sauce that topped the turkey meatloaf at The Fresh Market, for example, wasnt the supermarket chefs recipe. The counterperson told our shopper that it was actually a brand of bottled poppyseed salad dressing called Briannas.
Is any of this actually harmful for consumers? Not necessarily. But many people try to minimize the processed foods in their diet, sometimes for health reasons such as a sensitivity to preservatives. And they might assumenot unreasonablythat the prepared meals they buy are made from fresh ingredients. Common allergens like nuts and eggs often have to be disclosed, but federal regulations dont always mandate that stores provide an ingredients list unless the food has a health claim such as low fat.
Most of the stores we went to provided that information. But some lists were missing ingredients. The salad dressing on The Fresh Markets turkey meatloaf didnt appear on the ingredients list, nor did the clearly visible avocado in some of the samples of Stop & Shops spicy tuna roll. Omissions such as those could pose a problem for people with allergies to less common ingredients, or those who avoid certain ingredients because theyre high in fat, calories, or sodium, says Amy Keating, R.D., a dietitian at Consumer Reports who oversaw our testing.
In addition to concerns about health, some consumers may simply feel that fresh means that a dish was made on the premises. In fact, a group of shoppers in New Jersey brought a class-action lawsuit against three supermarket chains last year, saying that claims that their baked goods were made in-house were misleading because the products were actually delivered to the stores frozen or partially baked, then reheated. The judge dismissed the case because it didnt meet the requirements for a class-action lawsuit, but it suggests how seriously some consumers take those claims.
2. Pass the Salt, Again and Again and Again
Most of the sodium in our diet comes from salt added to processed and restaurant foods. But our testing revealed that theres loads of sodium hiding in the dishes you find in the prepared meals department, Keating says.
Mini turkey meatloaves from The Fresh Market were mini salt licks: 891 milligrams in 6 ounces. And who would guess that a cup of the chains delicate lemon orzo was a salt bomb, with 938 milligrams per serving? Thats about 40 percent of the daily recommended limit of 2,300 milligrams per day. How about the vegetarian eggplant rollatini (635 milligrams) or spicy tuna rolls (834 milligrams in 6 ounces)?
The health consequences of overdosing on sodium are serious. Too much boosts the risk of high blood pressure, which in turn raises the risk of heart disease and stroke. To get a sense of the amount of sodium in a healthful-sounding entrée, download a nutrition information app such as Calorieking.com, Buch suggests. You wont find data for specific dishes, but the estimates for items like meatloaf or Asian noodles will at least be in the right ballpark, she says.
3. Stores Can Stonewall on Nutritional Information
Heres a big loophole: The Food and Drug Administration requires packaged foods to carry Nutrition Facts labels, but it isnt mandatory for many fresh prepared meals to have those same labels. And thats not likely to change significantly anytime soon, even with some new FDA nutritional-labeling rules set to go into effect at the end of this year.
The new rules will require amusement parks, coffee shops, movie theaters, restaurants, and vending machines with 20 or more locations to post calorie counts for the food they sell and make other nutritional information available upon request. So will grocery stores, but the rules wont apply to all fresh prepared meals there.
The FDA says the information will be required for food intended to be eaten on the premises, while walking away, or soon after arriving at another location. That covers such items as sandwiches prepackaged or made to order at a deli counter or food you serve yourself at a hot bar or salad bar, but not food sold by weight from behind a counter, says Lauren Kotwicki, an FDA spokeswoman.
Its confusing, Keating says. For dishes that are sold at the hot bar or salad bar, the store will have to provide nutrition information. But if you buy the same dish by the pound from the deli counter, it wont.
Currently, information on calories and other nutrients is hard to come by. Of the six chains we went to, only Wegmans and a dish from one ShopRite location had calorie information printed on packages. Wegmans also had full nutritional information on its website.
But at The Fresh Market and Costco, we were able to obtain nutrition info only by contacting the companies. Aside from a sample of one dish at ShopRite, the other stores didnt have the nutritional information, although Whole Foods said it planned to by the fall of 2016.
Even more of a concern was that when nutritional information was available from a store, it didnt always match our labs findings. Some stores provided sodium and fat levels that were lower or higher than what our lab calculated.
The Fresh Market, for example, claimed its turkey meatloaf had 7 grams of fat, but our findings revealed an average of 18 grams per serving.
We also found wide variations in some nutrients in the same dishes from store to store. Our three samples of ShopRites chicken marsala, for example, ranged from 359 milligrams of sodium per 6 ounces to 1,003 milligrams. The amount of fat in the tortellini and sundried tomato salad from Stop & Shop was 18 to 29 grams per cup.
4. Dont Underestimate the Power of Portion Control
Unlike packaged foods, most prepared foods have no suggested serving size. With no guidanceand because you buy those foods either by weight or by the piecea serving size is pretty much up to you to calculate. Another potential trap: Research has found that big containers of food translate into bigger portions spooned onto plates, says David Just, Ph.D., a professor at Cornell Universitys Dyson School of Applied Economics and Management.
When we calculated our nutritional numbers, we used 6 ounces as a serving for main dishes and 1 cup for sides. Those are reasonable portion sizes, Keating says, but what you get at the store may be quite different. Even within the same chain, portions sold by the piece can vary from location to location. For instance, one piece of the tilapia with Parmesan crust we bought at a Whole Foods was 5 ounces, but we were served an 11-ounce piece at another branch.
Most people would look at a piece as a serving, Keating says. An 11-ounce serving of that fish would come in at 728 calories vs. 307 for a 5-ounce piece. Thats why its important to weigh your food, because if your store does offer nutritional information, you can apply it to the portions youre eating.
Dont want to be bothered with a scale? A deck of cards or the palm of your hand is about the same size as about 3 ounces of fish, meat, or poultry. Imagine a baseball or use your fist to judge what a cup of beans, grains, dried pasta, or vegetables looks like on your plate.
Keep in mind, too, that youre probably going to eat a main dish and a sideor twoand that even foods with moderate calorie counts for reasonable portions can add up when you add them all together. So if you pair 6 ounces of tilapia with 1 cup of Whole Foods asparagus salad, your meal will be 448 calories. But if you choose the cranberry couscous side instead, the calorie count will jump to 767.
5. The Cost of Convenience Is Steep
You may not want to spend your after-work hours julienning vegetables or preparing slow-roasted pork, but the convenience of fresh prepared foods comes at a pretty stiff price. There are some good dealsrotisserie chicken was $1.66 per pound at Costco, for instance. But $9.99 per pound for asparagus salad at Whole Foods or $4.99 per pound for mashed potatoes at ShopRite was a bit on the high side. Kristen Gradney, R.D.N., L.D.N., a spokeswoman for the American Academy of Nutrition and Dietetics, suggests spending on items that are the most time- or labor-intensive, such as a rotisserie chicken that can provide more than one meal, but make simpler dishes yourself. Our testers found that some fancy-sounding dishes, such as tuscan kale and cannellini bean saladwith correspondingly fancy priceswere relatively easy to make for less than half the cost. (See The Price of Ready-Made Meals," below.)
The Price of Ready-Made Meals
We calculated the cost of the ingredients and labor required for making these four simple dishes from scratch in our test kitchens. What we learned: To make them at home cost about half the price of the store-bought versionplus about 30 minutes of labor. Only you can decide which trade-off matters most.
Editor's Note: This article also appeared in the March 2016 issue of Consumer Reports magazine.
Editor's Note: This article also appeared in the March 2016 issue of Consumer Reports magazine.
Copyright © 2005-2016 Consumers Union of U.S., Inc. No reproduction, in whole or in part, without written permission. Consumer Reports has no relationship with any advertisers on this site.
Read more: http://www.foxnews.com/leisure/2016/02/11/supermarket-prepared-meals-what-to-watch-out-for/