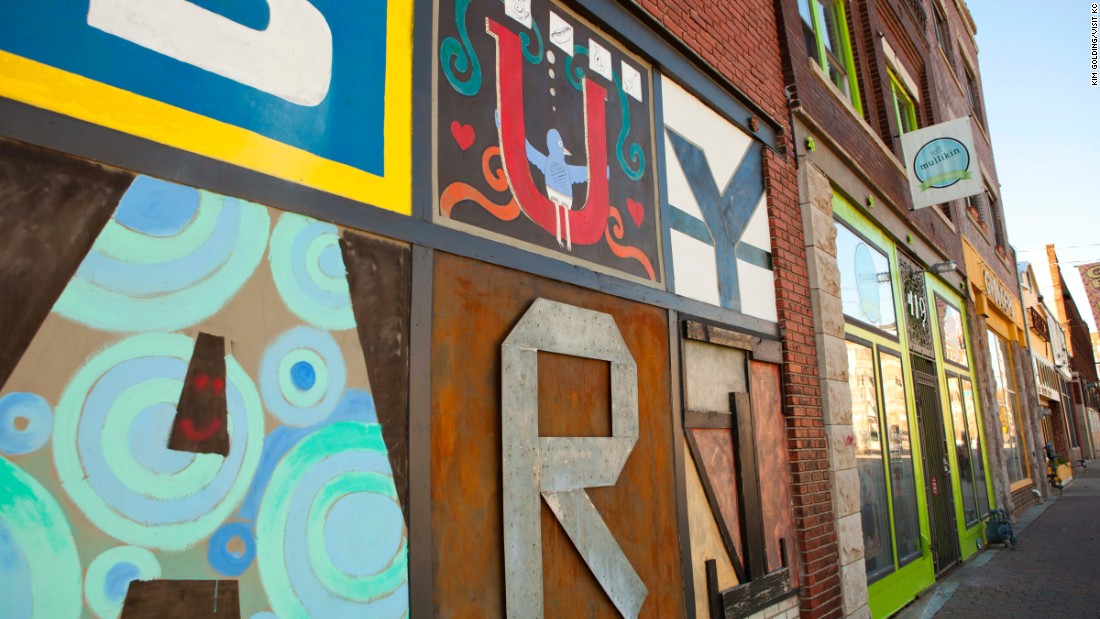 (CNN)Anchoring either end of Missouri, St. Louis and Kansas City are 250 miles apart along Interstate 70. And while they have distinct personalities and urban landscapes, the two also have an awful lot in common, both now and in the past.
By the end of the 19th century, they had grown from burly frontier towns into cutting-edge urban America, thriving hubs of the arts, industry and innovation where the future seemed to have no limit.
That boundless energy — and sheer bravado — was exemplified in 1904, when St. Louis hosted both a world's fair and the Summer Olympics.
Like much of the Midwest, the second half of the 20th century was not kind to either city. With so much of their energy, innovation and population siphoned off by the Sun Belt, St. Louis and Kansas City became sad members of the Rust Belt fraternity.
While neither city was in as dire straits as Detroit, both Missouri metropoli became shadows of their former selves, many of their grand buildings abused or disused, their once vibrant neighborhoods gradually slipping into urban decay.
But a funny thing happened along the road to the future: over the past decade, both St. Louis and Kansas City have revitalized and reinvented themselves as dynamic 21st-century cities. And they did it in the same way that they became global icons a century ago — by fully embracing innovation and molding it to local advantage.
Midwestern tech hub
While spurning the "silicon" label adopted by so many Bay Area upstarts, St. Louis has quietly evolved into one of the high-tech hubs of the Midwest.
Boeing, Unisys and Hudson's Bay Company are among the many companies that expanded their tech operations in St. Louis in recent years, and tech recruiting portal Dice.com has reported several times that the city is among the fastest-growing in the United States for new jobs in the tech sector.
The city on the Mississippi River is pulsating with energy once again. Young people are flocking to the city in search of jobs — and interesting things to do in their off hours.
"When I first moved here in the late 1980s," said local radio star Charlie Brennan, "I would be the only person walking around downtown St. Louis in the evenings or on weekend mornings.
"You never saw mothers pushing a stroller or people jogging. Now there's a lot of life downtown — especially young people and students. They used to roll up the sidewalks at five o'clock, but not anymore."
Author Amanda Doyle, who has written several books about St. Louis, also feels a sense of rebirth.
"I've always found it an easy place to make a big deal out of whatever crazy scheme you want to pursue," Doyle said.
"There is a supportive community of civic-minded creators here, and it's not just in the tech and innovation-disruptor communities. It's also hands-on artists and craftspeople and musicians and brewers and writers and aldermen and urban farmers and so on. I've always been amazed to see the spirit of collaboration, rather than flat-out competition, that seems to rule here."
Innovation abounds
Over in Kansas City, the best example of adaptive reuse is Union Station, which instantly became one of the world's largest and busiest train depots when it opened in 1914.
With a decline in traffic and KC's fortunes, the entire station was closed in 1980. Nowadays the architectural landmark is alive and thriving again — with museums, shops, restaurants, theaters and a model railroad experience.
On a hill overlooking the station, the National World War I Museum with its monumental Art Nouveau architecture has morphed from a stuffy, largely static collection into a modern, interactive multimedia museum worthy of a Disney attraction.
Meanwhile, the futuristic Kaufmann Center for Performing Arts (2011) and avant-garde Bloch Building (2007) of the Nelson-Atkins Museum have boosted the city to the forefront of Midwestern art and culture.
The biggest catalyst in KC's revival was the development and debut of the Power & Light District.
The city overhauled what was a derelict and largely unoccupied eight-block section of downtown with an influx of $6.5 billion in commercial and residential development.
"What was once vacant warehouses and office buildings is now a thriving neighborhood with thousands of young residents," said Klaus.
The district is one of several new or revived neighborhoods that helped spark the city's renaissance. The Crown Center redevelopment district includes the Legoland Discovery Center and Sea Life Kansas City aquarium, while the River Market area boasts the largest public farmers' market in the Midwest and the 19th-century Arabia steamboat, salvaged from the bottom of the Missouri River.
Another effervescent area is the Crossroads Arts District, especially on the first Friday of every month, when the 15-block neighborhood hosts an art crawl, where visitors can enjoy galleries, street performers, food trucks and pop-up restaurants.
"It's easy to say that the whole revitalization just hit all of a sudden," said Klaus. "But there are countless chefs, artists, entrepreneurs and more in the business and arts communities who put immeasurable hours in to make Kansas City what it is today. This momentum is a collective effort."
Read more: http://www.cnn.com/2017/02/16/travel/st-louis-kansas-city-missouri-revitalization/index.html