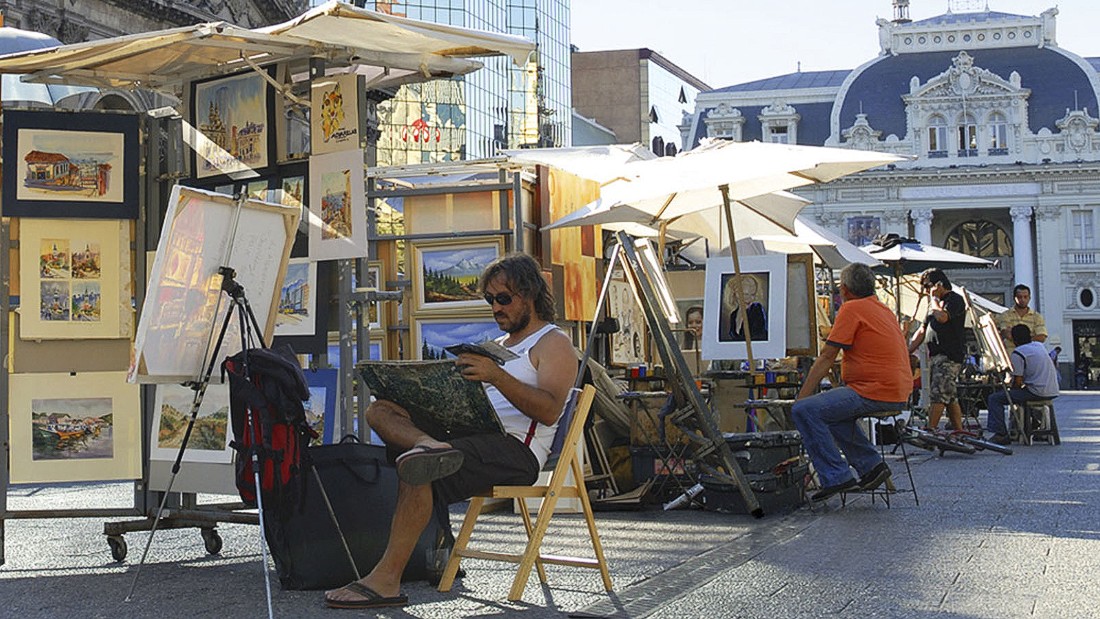 (CNN)Head east and in no time you'll reach the Andes; west and you hit the beaches and coastline of the Pacific Ocean.
It's worth putting off Chile's other attractions a few days to get to know the best of Santiago's culture, food and pulsing nightlife.
There's a boomtown feel around Santiago these days. The national economy is buoyant, corruption is low and the city's infrastructure is solid.
The past decade has seen countless bars, hotels and restaurants open. Here's where to find the best of Santiago:
Hotels
Luxury
The Aubrey
The Aubrey exudes class — and arches — inside and out. It is made up of two 1920s mansions. Like a family home, the heart of the hotel is a large staircase.
Wide hallways come off each landing with art deco furniture, inviting you to sit back and take advantage of the constant supply of tea, coffee and fresh baked items.
The dark wood paneling is offset with block colors, printed fabrics and crystal chandeliers.
The restaurant opens onto a cobbled patio and outside there's an outdoor swimming pool with massage jets.
The Ritz-Carlton, Santiago
In the center of the wealthy El Golf neighborhood, the 205-room Ritz Santiago delivers on the luxury and service of the well-known brand.
Among features are four restaurants serving top Chilean cuisine, a spa, more than 9,000-square-feet of meeting space, rooftop fitness center overlooking the Andes and many rooms with tourist-board views of the Santiago skyline.
Among numerous awards and recognition, Travel+Leisure picked it as a top 10 hotel in Latin and South America for 2012.
Mid-range
W Santiago
The W sits in Las Condes, the commercial part of town.
Modern and slick, rooms have full-length windows looking across the sprawling city.
There's a feeling among many business travelers that this is the place to be.
A highlight is the roof terrace with infinity pool.
A heli-pad lets high rollers escape the city without thinking about things like traffic — that means in winter being on the slopes in 90 minutes.
Lastarria
Hotel Lastarria is a best of Santiago boutique hotel.
With just 14 rooms, it's cozy.
The antique furniture, thick curtains and sense of elegance recall colonial times.
There's a leafy outside area where breakfast is served in summer.
The location is great, right in the heart of the bohemian Lastarria district and surrounded by shops, cafes and art galleries.
Noi Vitacura
Lot of nice rooftops in Santiago.
Add the Noi Vitacura to the list.
Opened in July 2011, Noi Vitacura is located in the upscale Alonso de Cordoba neighborhood.
Its 88 rooms are modern, with lots of bare wood, statement art pieces and large baths.
There's a spa, two restaurants and roof terrace with comfy lounge chairs and tables with very cool inbuilt fire pits.
Budget
Departmentos Amoblados Costa Belles Artes
Not a hotel, these furnished apartments are well maintained, centrally located and come with a helpful staff, laundry facilities and room service.
Apartments have TVs, kitchens and a clean yet homey feel.
The property is within walking distance of Palacio de la Moneda, Santa Lucia Hill and other landmarks.
A great bargain in the capital for many satisfied travelers.
Dining
Sukalde
In his mid-30s, Mexico City native and Sukalde owner/chef Matas Palomo calls the secret to his success a "knowledge of flavor."
He came to Chile at age 17 and fell in love with the local cooking traditions and ingredients, which he uses to stunning effect in his Chilean fusion cuisine.
There's lots of seafood on the menu, as well as novel creations such as organic salad with king prawn, rice paper and truffled vinaigrette.
There's a fun drink list, too, that includes papaya and calafate sours.
Reservations recommended.
Puerto Fuy
You'll find lots of seafood at this long-established best of Santiago award-winner.
What the restaurant describes as its "modern French" cuisine might take in anything from Patagonian hake with ratatouille and yellow tomato coullis to abalone served with a cilantro, parsley and olive oil sauce to superb grilled meats.
You'll find a variety of restaurants along Nuevo Costanera, so if Puerto Fuy is full or the menu doesn't appeal, you should find something nearby.
El Jardn de Epicuro
This fun, fashionable place has a nice selection of tapas (ham, seafood, cheese, tortillas, tostadas), as well as heartier grilled meats and fish.
The bar serves a variety of excellent piscos.
The warm brick-and-wood interior will make you want to hang out for a while.
Gaston Acurio
Astrid y Gastn is the Latin American chain sensation at the forefront of the upscale Peruvian cuisine movement that's taken hold across Spain, South America and parts of North America.
Maize, potatoes and quinoa take care of the starches.
From there the cuisine might best be described as Peru-meets-the-world. Roast lamb, duck, abalone, foie gras, even shrimp-stuffed ravioli make their ways onto the menu.
Don't be put off by the "chain" description.
Chef/co-founder Gastn Acurio is a celebrity chef often described along the lines of a Latin American Jamie Oliver and his upscale restaurant is a best of Santiago experience.
Nightlife
De La Ostia
There's high energy and generally a happy crowd at this informal neighborhood favorite that does excellent sangria and pisco sours.
Fans often describe the vibe (and sangria) as more Spanish than Chilean.
The tapas are decent (calamari, tortilla with potato and chorizo), but this is mostly a place to hang out for a few rounds.
Restaurant Opera
The Opera Catedral's upstairs restaurant is also a winner.
Of many excellent bars in Lastarria, Opera Catedral is a classy pick.
With wood paneling and wood ceiling, the medium-sized drinkery showcases a variety of live music, from DJs to torch singers.
There's a good restaurant on the top floor.
La Piojera
This "100 percent Chileno" bar might seem rough around the edges to some, but if you're looking for an easy authentic local experience (yes, it's touristy, but locals come as well), this is a good place.
The big draw is the Chilean national cocktail, the "terremoto" (earthquake).
It's intended to make you feel shaky afterward.
The terremoto is made with a sweet, fermented wine called pipeo and served with fernet alcohol and pineapple sherbet or sorbet in a large glass.
You get an "aftershock" (same drink, half the amount) following the first round.
This is without doubt a best of Santiago experience and not to be missed.
Bocanriz
This chic, modern wine bar is the place to do it.
The special flight of six Chilean wines are each paired with a light tapas.
Club La Feria
Santiago's nightlife doesn't get a lot of international hype, but the late-night club scene in the capital can stand toe-to-toe with any on the continent.
Club La Feria is the reigning DJ, dance and light-show champ.
It's loud and has plenty of scenery to gawk at, but the smallish club fits only 250 people.
That means the dance floor is PACKED.
Show up before midnight and you'll hear crickets chirping.
As at most Santiago discos, the heavy activity gets going between 2 and 3 a.m. (And ends at 5 p.m., when bars close in the city.)
Shopping/Attractions
Pueblito Los Dominicos
This cute, adobe-and-tile-roofed craft market is the place to browse and buy small gifts and souvenirs: clothes, fabrics, ceramics, paintings, furniture, carvings, glasswork, more.
A series of stalls in a small village-like setting sell crafts made by more than 150 Chilean artists.
There are relaxing outdoor cafes in the complex with coffee and empanadas.
Plaza de Armas
As in nearly all colonial South American cities, the Plaza de Armas is at the heart of the historic center.
This is the point in the capital from which all distances in Chile are measured.
Known as downtown, there's plenty to explore, lots of points of interest and steady people watching.
The neo-classical Catedral Metropolitana has a spectacular eighteenth-century Baroque interior.
The Palacio de la Moneda is an eighteenth-century neoclassical building that serves as the presidential office.
A few blocks away (follow your nose) is Mercado Central, one of Chile's largest fresh seafood markets.
Amid rows upon rows of stalls are restaurants, some behind smell-proof glass windows, others in the open. Either way, it's a great place for an impromptu lunch.
La Chascona
The former home of Chile's poet and Nobel Laureate, Pablo Neruda, quirky La Chascona is filled with odds and ends collected throughout his life that provide a glimpse into the poet's mind.
Located in the arty district of Bellavista, it's a 10-minute walk from the Mapocho River.
Chilean National Museum of Fine Arts
The Chilean National Museum of Fine Arts houses more than 3,000 works, making it one of the finest collections in South America.
In addition to an impressive collections of works by Chilean and Spanish artists, the museum has a comprehensive collection of Asian pieces.
It's located in a fabulous Beaux-Arts building dating to 1910.
The museum itself was established in 1880, making it the oldest in South America and among the continent's most important.
Chilean national Museum of Fine Arts, Parque Forestal s/n., Casilla 3209; +56 2 499 1600
Parque Metropolitano
From San Cristobal hill and Parque Metropolitano you can sometimes see clear to the Andes.
But the nearby views are worth the walk, too.
Panoramic views of the city are worth the walk up Cerro San Cristobal Hill, 300 meters above the city.
The park area is pleasant. A white statue of the Virgin Mary overlooks the city. On a clear day, the views stretch to the Andes.The park and hill are crowded on weekends.
If you don't feel up to the walk, there's a cable car to the top or you can grab a can or minibus.
However you manage, this is a best of Santiago landmark that shouldn't be missed.
Read more: http://www.cnn.com/2015/10/29/travel/insider-guide-santiago/index.html