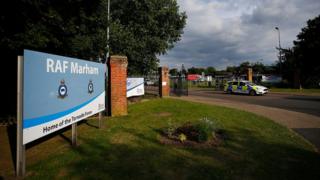 Police investigating the attempted kidnap of an RAF serviceman say they have "moved away" from terrorism as a motive.
The airman was approached by two men and threatened with a knife while out jogging near RAF Marham on 20 July.
Police have received about 500 calls in the five months since the incident.
Det Supt Paul Durham said officers had "moved away" from the theory it was terror-related and were now revisiting some previously-considered motives.
He described the incident as "explosive and violent."
"What actually lies behind that is what we're struggling to ascertain," he added.
"Whether he's unwittingly stumbled upon something or whether he has been targeted for something or upset them at some point during his run; there are a whole load of potential explanations that move us away from the theory that this is terrorist-related.
"We are now revisiting some of the earlier motives."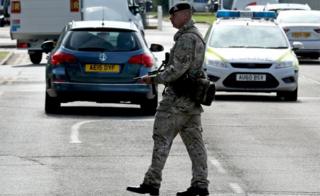 The airman, who has not been identified, said he was near RAF Marham when he was grabbed by a man who tried to drag him towards a nearby car.
He fought back, knocking one to the ground, before the pair fled.
Armed soldiers patrolled the outside of the base in the aftermath of the attack.
The station is home to some of the Tornado bombers that have taken part in air strikes against the so-called Islamic State.
Almost 10,000 people are based there, including members of the RAF, Navy and army, as well as the civil service and other staff.
Read more: http://www.bbc.co.uk/news/uk-england-norfolk-38403648