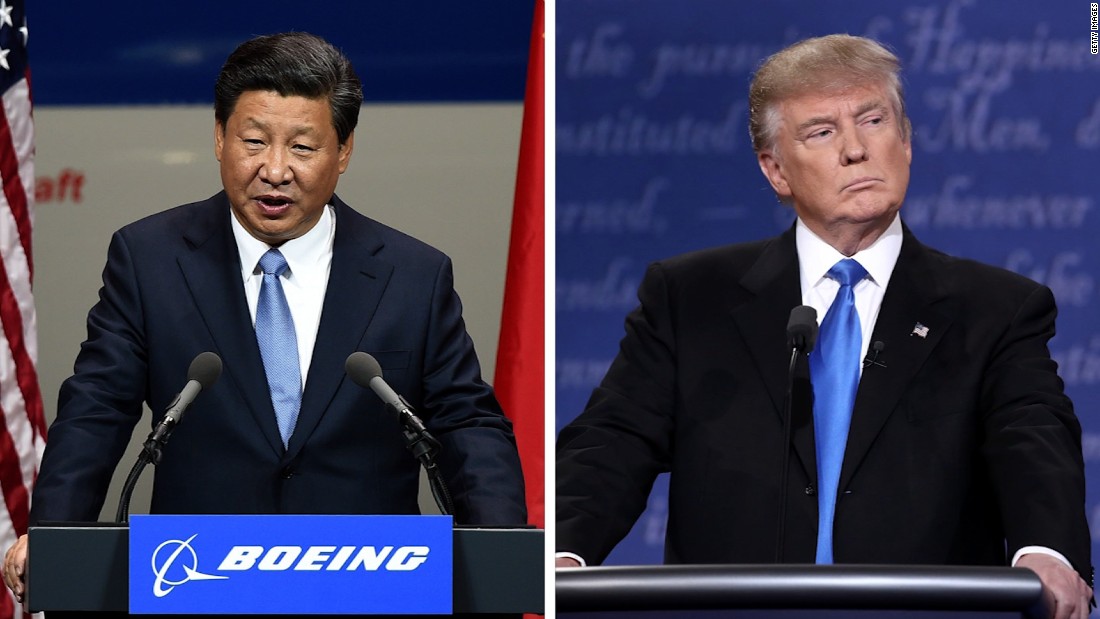 (CNN)Just in case Donald Trump missed the signals from Beijing about how significant it views any tilt toward Taiwan, China flew a nuclear-capable Xian H-6 bomber into the South China Sea this weekend, then had one of its trusted newspapers point out that ditching the 40-year-old "one China" policy would touch off "a real crisis."
It is still at the mercy of a host of powerful centrifugal forces that at any moment could threaten to spin the nation apart: 56 ethnic minorities and religions from Buddhist Tibetans and Mongols to Muslim Uyghurs, each with its own region, demands and desires. Taiwan is just one such region. But if Taiwan can successfully defy Beijing and break away, what chance is there for the communists to hold the rest in check? In short a "one China" policy is a life or death matter for the rulers of Beijing.
Donald Trump appears to be holding a carefully nuanced and balanced "one China" policy that has been respected by eight American presidents hostage to "other things." But China does not react well to a diplomatic or financial gun to its head. And the stakes go far beyond tariffs and trade. The United States relies on China and its good faith even more than China relies on us.
So, it would be well worth it for the President-elect and his advisers to reflect on just what we need China for these days, and which Taiwan can do little or nothing to help.
In the geopolitical area, we need China to keep North Korea's nuclear and long-range missile programs in check. It could be said, as Trump has suggested, that China hasn't done much in this respect. But so far, North Korea has hardly shown itself capable of producing a deliverable nuclear warhead or vehicle. Moreover, as that nation's nearest neighbor, China certainly has its own good reasons for making sure its nuclear ambitions are contained. Both the United States and China need to cooperate in this respect neither nation wants a failed state in this critical part of the world.
Equally, the United States and our many allies and friends in Asia want China to exercise some restraint in strategically important areas of the South China Sea. Allies we have long cared deeply about from tiny, oil-rich Brunei to Australia, Japan and the Philippines in their turn care deeply about keeping China within bounds in Asia, and having an America prepared to do its utmost to avoid confrontation in their backyard.
Beyond Asia, China has proven to be an increasingly reliable partner with the United States and Western Europe in some critical issues: ratifying the freeze on Iran's' nuclear weapons program and restraining its use of the veto in critical UN Security Council votes. If the United States and Russia are to reach some accord on Syria that would allow a full-bore pursuit of ISIS in the Middle East, having an obstreperous China would hardly be useful.
Then, there's trade and finance, where Trump believes he needs to bludgeon China into submission. But will that work? Hardly likely. First, China has every reason to keep viable, indeed thriving, financial channels open to the United States.
First, it is the world's largest single holder of US Treasury securities, with $1.157 trillion worth on hand, a number that has fallen by nearly $100 billion in the past year. If the Trump administration is going to embark on an even more vigorous program of public works, it will need foreign customers for its bonds, but especially will want to make sure China doesn't unload any more of its existing horde.
The breadth and depth of the Chinese-American relationship is hard to overstate. Over the next 20 years, Boeing believes, China will be buying some $1 trillion worth of planes. It wants the lion's share of those orders. But China does have alternatives, particularly the European Airbus consortium that would be happy to step in. That all represents a whole lot of jobs and a lot of help to our trade deficit.
This year alone, Boeing is filling more than $11 billion in orders from China, 163 planes. China is also the fastest growing market for American films and will likely pass the United States in box office revenues next year. The three largest categories of Chinese purchases from the United States soybeans, cars and aircraft are all critical components of the American economy and all easily sourced elsewhere.
Already, China has made its views quite clear. There is much, up to and including world peace, that hinges on America's continued respect for the "one China" policy. Taiwan and the Trump administration need to understand this, and quickly, before this longstanding and mutually profitable relationship goes hurtling off the rails.
Read more: http://www.cnn.com/2016/12/12/opinions/why-us-needs-china-andelman/index.html