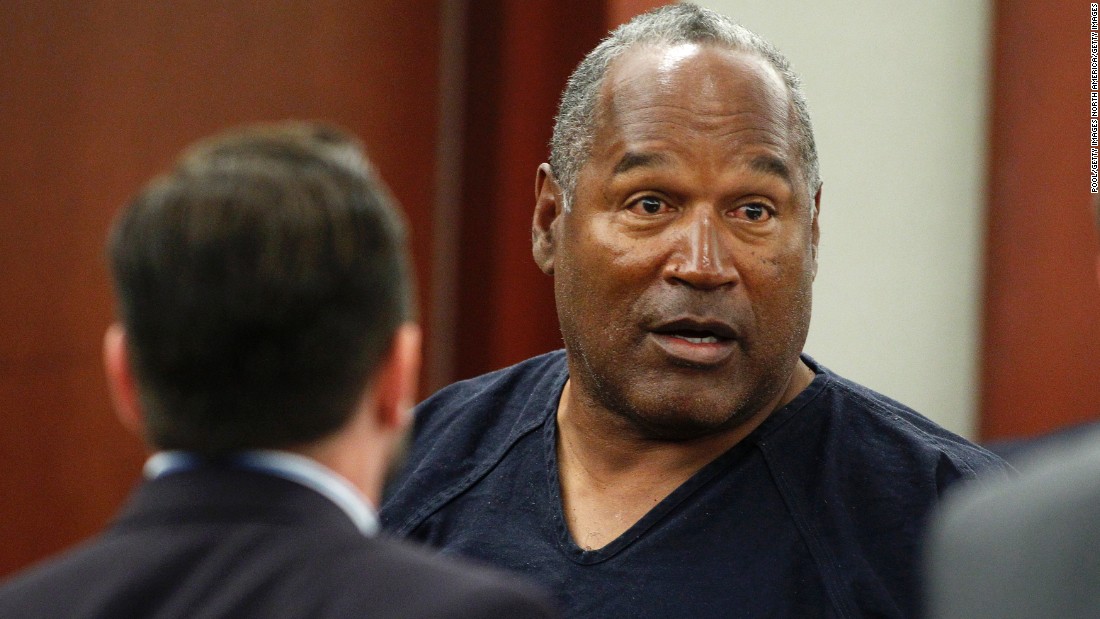 (CNN)O.J. Simpson could get out of prison later this year, if a pivotal parole hearing goes his way.
The hearing will likely take place in July, according to David Smith, spokesman for the Nevada Board of Parole Commissioners. Depending on the outcome, the "Juice" could be loose as soon as October 1. Previous ratings of Simpson have scored him in the low-risk category for release.
Simpson — who was famously acquitted in 1995 in the slayings of his ex-wife Nicole Brown Simpson and her friend Ron Goldman — has been serving out a nine-to-33-year sentence for his role in a 2007 incident that unfolded in a Las Vegas hotel room.
He and armed associates allegedly confronted memorabilia dealers Bruce Fromong and Alfred Beardsley and took pieces of Simpson's memorabilia from them. Simpson was convicted on charges including kidnapping, armed robbery and assault with a deadly weapon.
The former college and pro football star said at his sentencing that he was trying to reclaim family heirlooms and other personal items that had been stolen from him, and claimed that he was unaware his associates were carrying guns.
The old-fashioned principle of remorse
Members of the parole board "work with the old-fashioned principal of wanting to hear the inmate is remorseful for their crime," said Gabe Grasso, a veteran Nevada defense attorney who was part of the team representing Simpson in the Las Vegas kidnapping case.
Grasso, who stopped representing the former star running back eight years ago, has seen dozens of former clients go before the parole board.
"What O.J. has going for him is I don't think Fromong will want to show up screaming and testifying against him," the lawyer added. "He was upset, insulted, but I don't think that he thought the price should be what it was."
Fromong told CNN that he would testify in favor of Simpson's release. "I told the district attorney at the time (of his conviction) that I only thought that O.J. Simpson deserved one to three years in state prison," Fromong said.
"O.J.'s done his time, he's been a model inmate," he said.
The other victim, Alfred Beardsley, died in 2015.
"Something else that could help O.J., he did not set up the meeting in the hotel room," Grasso added.
Tom Riccio, a Los Angeles man who had been convicted on stolen property charges before the 2007 incident, arranged the meeting between Simpson and the memorabilia dealers.
"I hope he does get his life together," Riccio told CNN. "I hope he doesn't take matters into his own hands anymore. I hope he has learned his lesson."
"He was just trying to get his stuff back," Riccio said. "A lot of memorabilia but also a lot of personal items, mementos. I don't think a regular person would get nine to 33 years for these crimes. They were getting him for other things."
Read more: http://www.cnn.com/2017/03/07/us/oj-simpson-parole-hearing/index.html