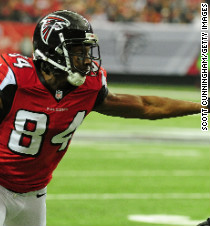 (CNN)Roddy White, a former Atlanta Falcon who is an NFL free agent, used a series of tweets to describe a traffic stop Wednesday that he said had him concerned for his life.
When a DeKalb County, Georgia, police officer apparently put his hand over his holstered gun as he approached White's car, the wide receiver said he grew upset and worried.
White received two traffic tickets but said he wanted to report the officer for his actions.
"… It may save the next black man's life," White wrote.
Police told CNN they are aware of the incident, but White had not filed a report as of Wednesday night, as he tweeted he would. If he does, the matter will be investigated by the internal affairs unit, police said.
White's experience comes during a time of well-publicized traffic stops of African-American motorists who've been fatally shot or treated roughly by police. The incidents have sparked protests and nationwide discussion about the interaction of police officers and minorities.
White was pulled over in the Atlanta suburb and was cited for speeding and an expired license plate. He had no problems with that, the athlete said in a series of eight tweets.
He said he questioned the officer about why the officer felt the need to unsnap a restraint on his holster and grab his gun.
The officer purportedly told him it was police procedure, then clarified that it was his preference.
"It's cops like you that makes this world a very ugly place its a good thing I already had all my information to give him or I could've died on a routine traffic stop cause if u stopping me for speeding I don't see a reason to grab your gun," White tweeted.
Maj. Stephen Fore of DeKalb County Police said a policy manual is posted on the department's website.It doesn't include any mentions of hands on weapons during traffic stops.
Holsters are divided into three different levels, with Level 3 being one many departments prefer. It protects the officer from having his or her gun taken during a confrontation with a suspect because it takes three steps to unholster a handgun. That's the level used by DeKalb County officers.
One expert told CNN that the first thing an officer is looking out for during a traffic stop is his or her safety. A driver should turn off the car, roll down the window, stay inside the car and put their hands on the steering wheel, or at least make it clear that there's nothing in their hands and they aren't reaching for anything.
"The officer doesn't know who you are," Cedric Alexander, CNN law enforcement analyst and the public safety director of DeKalb County, said last year.
Reactions to White's tweets were mixed, but most voiced support for the police officer's actions. Others said they have experienced the same thing and weren't upset by an officer putting a hand over a gun.
A man named Chris Wright wrote: "Ima have to disagree with you on this. Unless he had it pointed on you. I've been stopped and had a cop unbuckle his strap."
Another man said White, who is black, was unnecessarily making the issue about race.
"I'm white, and everytime I've been pulled over at night, the cop did the exact same thing. Ignorance. Stop feeding the divide," Michael April said, although it is unclear when White was pulled over.
A woman tweeted her support.
"God bless you and stay strong! Tell your story!" Malina Carrillo wrote.
White, 36, played 11 seasons for the Falcons. In 2010, he led the NFL with 115 receptions and was named to the All-Pro team. He was released by the Falcons in March and at this point, midway through the season, it is unlikely he will sign with another team.
Read more: http://www.cnn.com/2016/11/16/us/roddy-white-atlanta-traffic-stop/index.html