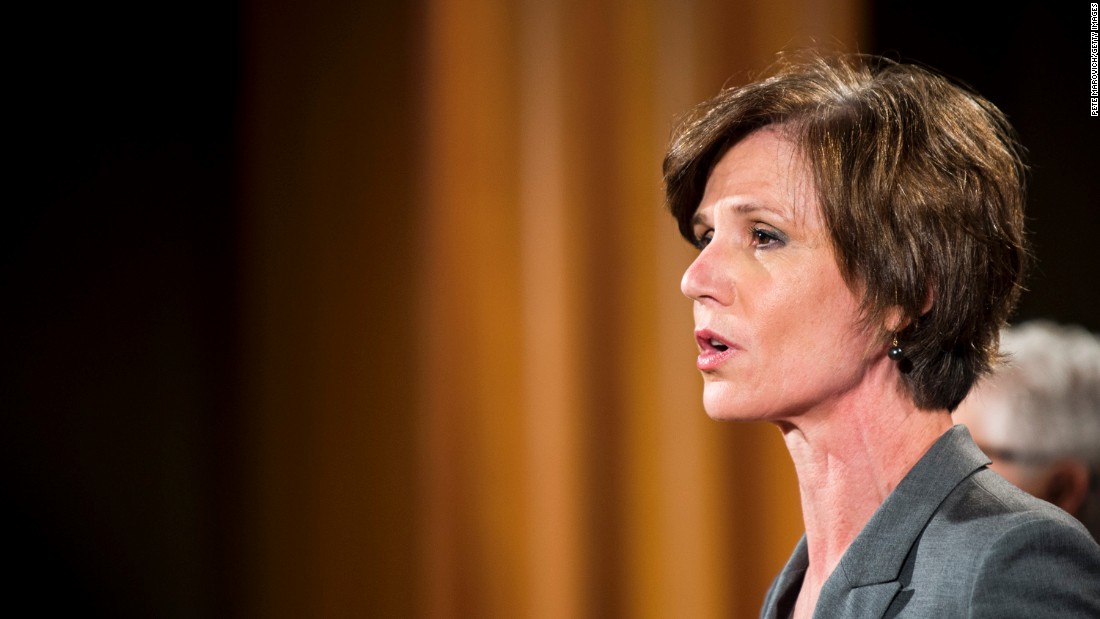 (CNN)The resistance to President Trump's controversial ban on refugees is growing. What started at the grassroots level with spontaneous protests at airports and on city streets is now reaching into higher levels of government.
Frustrated with a President who seems to be running roughshod over American policy, Acting Attorney General Sally Yates, an Obama appointee, announced she would not defend the order. Yates said she would refuse to put the power of the Department of Justice behind this measure in the courts. Human rights, civil rights, and civil liberties supporters were bolstered by her defiance.
Then Trump fired her by a hand-delivered letter, revealing the fragility of the opposition to this administration. Even with this blowup, it still does not seem that the Republican Senate, eager to secure this moment of unified government, will do anything to jeopardize Senator Jeff Sessions' confirmation as Attorney General. And from everything we know, Sessions will be much more than merely willing to enforce this order and anything else that comes from the Trump White House involving immigration and refugees in the coming years.
For the baby boom generation, the string of events brings back painful memories of the Saturday Night Massacre of 1973 when Attorney General Elliot Richardson and Deputy Attorney General William Ruckelshaus refused to carry out President Richard Nixon's orders to fire special prosecutor Archibald Cox who was investigating the Watergate scandal that ultimately forced Nixon from office. "Nixon discharges Cox for Defiance; Abolishes Watergate Task Force; Richardson and Ruckelshaus Out," read the headlines of The New York Times.
The flareup at the Justice Department reveals the high stakes for Democrats in the confirmation hearings. Until now, the Democrats have been remarkably passive as the Trump administration threw red meat to conservatives in Congress with appointees who promise to move forward with what is shaping up to be a radical agenda on domestic and national security policy.
Without a filibuster to protect them, Democrats have been resigned to asking a few tough questions but doing remarkably little to generate grassroots opposition that could scare a few Republicans away from voting yes. Some liberals have been stunned to watch Democrats give Sessions, of all the nominees, the kid glove treatment despite his controversial record on civil rights, immigration and national security.
Senate Democrats need to use their time on the floor to make much tougher statements about what they believe to be wrong with Sessions, the kind of attacks that Senator Ted Kennedy unleashed against Supreme Court nominee Robert Bork in 1987.
Behind the scenes they also need to make clear to fellow Republicans in the upper chamber that unless there are better lower level appointees and unless the Department of Justice backs away from certain kinds of measures, they will use their power as a minority on the Supreme Court nomination and on key legislation to stifle the administration.
As Adam Jentleson, former Chief of Staff for Harry Reid
wrote in the Washington Post
, Senate Democrats have the power to withhold their consent on any order of business which would bring the chamber to a halt.
The Democrats just need to be willing to engage in hardball tactics. Even if they can't stop the Sessions confirmation, they should put as much pressure on every Republican before they cast that vote, and they need to make clearer at the end of this process that they will exercise their political muscle as a minority when it comes to other business.
The quick firing of Yates, as Trump brings his "Apprentice" skills to the White House with the most serious of matters, offers a powerful reminder to Democrats of why these appointments matter so much and the dangers that come from the passive approach we have seen thus far.
If the White House continues to move forward with its policies in this hyper-aggressive fashion, which by all indications seems likely, Trump's opponents will be depending on smart or defiant agency officials to push back against this aggressive rightward push — at least until Democrats can regain majorities in the House and Senate. There are not many other checks and balances left.
Some observers were heartened when the Senate confirmed James Mattis to be Secretary of Defense, not because he was a dove but simply because he was one of the few people in Trump's inner circle who seemed willing to stand up to him on anything of significance. The departure of several lifetime senior civil servants in the State Department was another clear example that voices who might slow down this White House seem to be vanishing.
In his nominations, Trump has put forth people who likely will be mostly yes men and who will interact with a sympathetic and protective Republican Congress. Perhaps, Senate Democrats will see Monday night's events at the Justice Department as a wake-up call to slow down the confirmation of Senator Sessions before there is no one left around to place some restraints on the Trump presidency.
Read more: http://www.cnn.com/2017/01/30/opinions/monday-night-massacre-wake-up-call-to-senate-democrats-zelizer/index.html