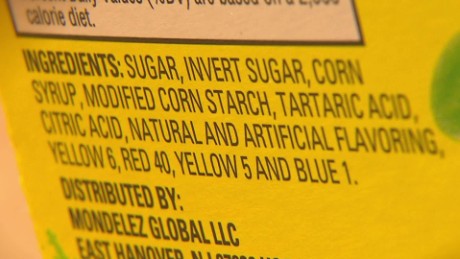 (CNN)Ever find yourself zipping through the aisles of a grocery store, crunched for time, and grabbing whatever highlights itself as "healthy," "nutritious" or "wholesome"? Your strategy could be flawed.
Experts warn that these labels
do not really mean very much
and can even be misleading in some cases. But changes could be in motion to make things better.
Several weeks ago, the U.S. Food and Drug Administration started
discussing plans
"to amend its 'healthy' nutrient content claim regulation," a change that would be based upon significant scientific agreement among experts in the field.
What is 'healthy'?
The FDA's
current criteria
, created in 1994, specify that levels of total and saturated fat, sodium and cholesterol within foods need to be below a certain cutoff in order to be marketed as healthy. They must also have at least 10% of the daily requirements for vitamins, fiber and other nutrients.
"Nothing happens overnight with any of that," said Sara Haas, a spokeswoman for the Academy of Nutrition and Dietetics. "That's why dietary guidelines are updated, too: There's always new information out there, and it makes sense to re-evaluate all that stuff every once in a while."
The latest version of the U.S. dietary guidelines
put a limit
on added sugar, advising consumers to limit their intake to 10% of their total calories. The update kept previous recommendations to consume no more than 10% of total calories from fat but expanded on the concept of heart-healthy "good fat" found in oils and some fish.
"I think it is wise to update [the criteria] to show what research shows," Haas said. "If I was a less knowledgeable person in the food world, that would make me feel better as a parent to know this was more tightly regulated."
Would we be 'healthier'?
In reality, if the criteria were revised and foods, such as nuts, started to feature the term "healthy" on their packaging, it would be unlikely to change consumer behavior. "Certain foods they innately know are healthy, like nuts, fruits and veggies," Blake said.
Where better label regulations will be useful is in assuring consumers that products based on foods they know are healthy, such as frozen salmon steaks, are good for them as the level of healthy fats within them hold them back from being labeled "healthy." Such labeling could also keep shoppers from reaching for "healthy" cereals and snacks that are, in fact, high in added sugar, added Blake.
One change that could prove to be more important than redefining what it means to be "healthy" is forcing food companies to list the amount of added sugar in the nutrition facts panel of a product instead of just total sugar, according to Blake.
"I think that is the biggest thing that would wake up consumers," she said.
Read more: http://www.cnn.com/2016/05/13/health/fda-food-labeling-healthy-fats-and-sugar/index.html