CHAPEL HILL, N.C. It's Election Day, and an office in the University of North Carolina Center for Civil Rights is bustling.
Eighteen attorneys, legal experts and law students field calls to the 866-OUR-VOTE hotline to make sure every eligible voter is able to cast a ballot. By the end of the day, the trained legal professionals and volunteers will have fielded tens of thousands of calls from voters and would-be voters across the country, part of a national Election Protection coalition that included more than 1,000 hotline and 3,000 on-site volunteers in 28 states.
One of its partners, the nonpartisan Democracy North Carolina, had more than 1,000 volunteers and 200 lawyers working on Election Day. In addition to the people answering phones in Chapel Hill, there were legal monitors roving and available for dispatch to polling sites as issues arose.
Isela Gutierrez, an associate research director for Democracy North Carolina, said the hotline's goal was to prevent people from leaving a polling site without voting.
"We are so committed to the exercise of democracy in North Carolina the intricate and the mundane as well as the exciting and dramatic," Gutierrez told The Huffington Post. "It's not just the stuff that national media is waiting to hear about."
If eligible voters faced long lines, no translated ballots, confusion about their registration or other obstacles, volunteers at the sites encouraged them to call the hotline. The Election Protection crew members, using laptops in the office, answered questions and could look up a voter's polling site or advise what kind of ballot could be cast if the voter no longer lived at the address on the registration.
On Tuesday, the center received a high volume of calls from Durham County, where check-in machines at some polling sites had glitches early Tuesday. The county board of elections then ordered all polling sites to transition to paper roll books to check in voters.
The glitches caused concerns throughout the county, especially after the Bethesda Ruritan Club precinct in Durham ran out of paper authorization-to-vote forms and had to delay voting for more than an hour and a half.
At Chavis Community Center, a polling site in a predominantly black corner of southeast Raleigh, poll monitors for Democracy NC recorded that at least 300 voters were turned away in 2014 because they were voting outside of their home precinct.
The group also found that across the state, voters were inadvertently disenfranchised by poorly trained poll workers who didn't know such things as who met the requirements to receive a provisional ballot. In some cases, voters traveled from precinct to precinct because poll workers couldn't tell them where they were supposed to cast their ballots.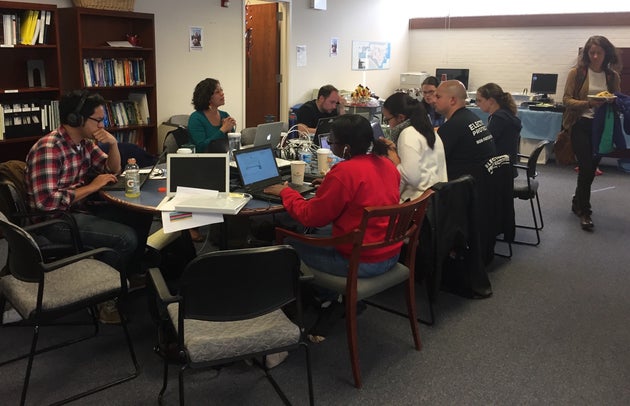 On Election Day, a woman in Harnett County called the hotline to say she wasn't going to vote because there was a 90-minute wait at her polling location.
Lines at the polling site at North Carolina Central School of Law, a historically black college in Durham, took more than two hours. Election Protection volunteers encouraged students to stay in line. They also made sure students were at the right location, since some found out they couldn't vote after waiting an hour.
Even scissors were an issue. At the American Legion Post No. 7 site in Durham, poll workers had to cut names out of the paper poll books to put on the authorization-to-vote forms after the county mandated the use of paper books. But there weren't enough scissors, and when Election Protection volunteers offered to buy more, they were told poll workers had to wait for county-issued scissors.
"The disenfranchisement doesn't always come in a dramatic and exciting package," Gutierrez said. "It can come in a mundane and easy-to-overlook package."
About 50 miles west of Chapel Hill, former U.S. Attorney Melinda Haag saw many of the less newsy issues firsthand while standing outside a polling center in Greensboro. Haag, who lives in Northern California, was in North Carolina working as a poll monitor because the state had been "in the news as a place where people think there may be some challenges."
"We find it so easy to vote here in Northern California, and with my legal education, it's just easy. It's easy to vote," said Haag, who prosecuted voter rights cases while working for the Justice Department and was a poll watcher in 2004 and 2008. She's now the head of global business at the San Francisco-based law firm Orrick.
"I understand it. I'm versed in it as a lawyer. I understand the system, how to use the internet, where to cast my vote."
Haag was among the volunteers helping people who had never voted, people who were nervous about voting and people who just didn't understand the process. There were voters who didn't know they couldn't register the same day, and others with less flexible jobs who were trying to vote quickly on their way to work or on their lunch break.
"The very last voters, they were two older African-American men. They drove up with seven minutes to spare," Haag said. "They said they'd never voted and didn't know how to do it. And they'd come straight from work."
She also encountered voters who didn't know where their polling locations were, voters who needed rides and disabled people who struggled to get into the polling location.
Despite her 28 years as an attorney, her work volunteering as a poll monitor this year showed her that voting can be a challenge for many people who haven't been afforded the same privileges as her.
"It's intimidating to come and vote when you're disabled and you know you can't get into that school," Haag said. "When legislatures pass laws about voting and there's a cry from certain constituencies, saying you're making it harder to vote and that it's voter suppression, I have a better insight into that now."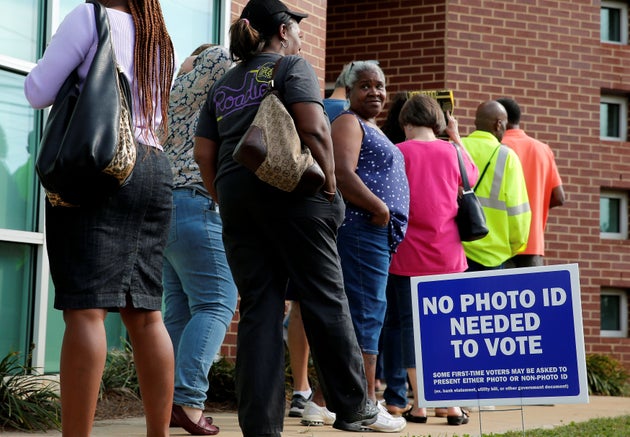 Voting rights advocates were particularly worried about North Carolina, since the state has a history of deliberately trying to disenfranchise black voters. The state has also changed its voting laws a number of times since 2012.
North Carolina also passed one of the strictest voter ID laws in the country in 2013. A federal appeals court struck it down in July, after three judges determined that GOP lawmakers in the state implemented specific ID requirements, reduced the number of early voting days and altered registration procedures in order to undermine black voters.
During the 2014 midterm election, the state also barred voters from casting ballots outside of their home precincts and eliminated same-day registration. Democracy NC estimates that 30,000 potential voters were not able to cast a ballot in the 2014 midterms because of those two restrictions alone.
Black turnout was low during early voting before this Election Day, and voting rights advocates say that is largely due to the efforts of the Republican-controlled Legislature and local officials to aggressively limit early voting opportunities. A memo sent out by the state GOP in August urged precincts to make "party line changes to early voting." Twenty-three county election boards subsequently reduced early voting hours, and nine boards eliminated Sunday voting.
The state had also shut down a number of polling sites at least 27 closed in North Carolina after the Supreme Court in 2013 struck down portions of the Voting Rights Act of 1965.
The North Carolina NAACP sued county election officials in Beaufort, Moore and Cumberland counties for canceling voter registrations after campaign mailers sent to voter addresses were returned as undeliverable, which they said was an effort to suppress the black vote. A federal judge ordered county election boards to restore the registrations on Nov. 4. And still half of pending voter registrations in the state are from people of color, even though they only made up one-third of the registrants.
Read more: http://www.huffingtonpost.com/entry/north-carolina-election-poll-watchers_us_582642c6e4b02d21bbc8d8e7