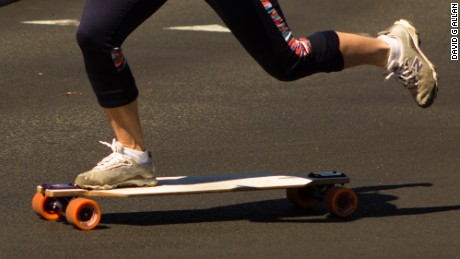 (CNN)What is a race?
This episode of Fit Nation will air three times on Saturday between 1 and 6 p.m. ET and Sunday between 5 and 6 p.m. ET.
At its most elemental, it's about who gets from point A to point B the fastest. Humans can run, climb or swim to do it, and we've invented and repurposed ways to add speed using horses, cars, boats, bikes and skis.
Once you have a mode of transportation enjoyed by at least two people, you technically have all the ingredients for a race. Add more people and some organization, rules and competitive events, and you have a sport.
That's the evolutionary story of everything from the Indianapolis 500 and the America's Cup to the Triple Crown and the Tour de France.
You can now add skateboarding to the list: not the little trick boards built for flips, grabs and grinds but longer boards originally built for commuting and now modified for speed.
From college commutes to big-city outlaws
"It started becoming popular for surfers riding them when the waves weren't good," said nationally ranked longboard racer Conan Gay. "Sidewalk surfing" on homemade longboards was obscure for decades, before manufactured versions began showing up on college campuses in the late 1990s. For the cooler undergrads, the option was more stable and faster than traditional skateboards and much cheaper than cars.
This year, it was a beautiful, sunny day with cool temperatures and a lot of bonhomie. The top-ranked racers were positioned in front, though each was individually timed.
The end of the 10K had a bit of last-minute drama as the front-runner, Colby Cummings, wobbled off the path and lost his pole position.
"There's no room for error," said Andrew Andres, an ultra-skater who won the overall men's final at the Bend Beatdown. "A little pebble or pine cone in the road, and that's it."
Some racers collapsed in exhaustion at the end. At nearly 4,000 feet above sea level, Bend's elevation took a toll on racers from sea level towns, and a few threw up, but overall the result was positive.
"I'm completely stoked. We had a really great weekend. Everyone is already talking about next year," Gay said. "I didn't want the weekend to end."
City officials were pleased too and have approved a second Beatdown for next summer. To alleviate any more throwing up, Gay said, next year he will probably schedule the group drinks the night of the race instead of the night before.
Never be board again
Don't underestimate the power of fun in getting fit. Longboarders love riding, and that doesn't seem to fade even when they do it for 24 hours straight.
"My Zen spot is when my feet hit the board," Andres said.
If you take up this sport, not only is the learning curve relatively short, you won't find your workout routine getting, well, routine. It can become your school or work commute.
The physical benefits of longboarding are mainly cardio and strength training, especially with longer races. Unlike traditional skateboarders, longboarders alternate their kicking legs, building strong calves and glutes with every power push.
Add balancing, switching sides on the board, swinging arms for momentum and squatting, and you can see how longboarding works your upper body and abdominals as well, with the added benefit of improved coordination.
"You hear a lot about core strengthening, and longboarding forces the core every step of the way," explained CNN Chief Medical Correspondent Dr. Sanjay Gupta. "Having tried it recently, I found myself flexing and contracting muscle groups that hardly ever get a workout."
So if you're looking for a friendly, fun, safe (with helmets!) and legitimately cool new sport, consider longboard push racing, the most accessible and trending of the board sports.
Read more: http://www.cnn.com/2016/05/27/health/longboarding-bend-beatdown-fit-nation/index.html