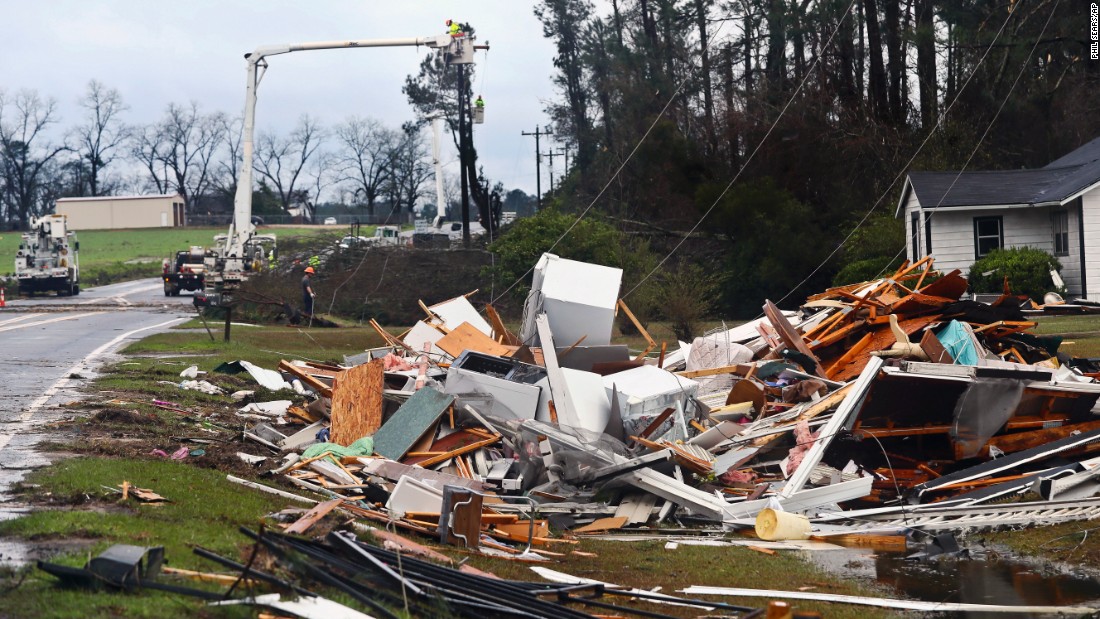 (CNN)At least 20 people have died in weather-related incidents across the country over the weekend.
In the Southeast, storms killed at least 18 people — 14 in Georgia and four in Mississippi — and two people died in California after heavy rains hit the region.
West Coast rains
In Northern California's Mendocino County, a 125-foot-tall oak tree fell into a single-story apartment, killing a 36-year-old woman on Saturday morning, Capt. Pete Bushby of the Ukiah Valley Fire Authority told CNN.
The woman was in bed with her boyfriend sleeping when the tree fell, officials said. The boyfriend survived, along two children in the home.
The rains weakened the oak tree, and it's a weather-related death, Bushby said.
Meanwhile, authorities in San Diego County are working to recover the body of an adult from a swollen creek, San Diego Sheriff's Department spokesman Ryan Keim told CNN on Sunday.
Rescuers are also searching for a child in the creek.
"The creek is very swollen with lots of debris," Keim said.
Meantime, two people are missing off the coast of Pebble Beach, the US Coast Guard said.
State of emergency in parts of Georgia
Across southern Georgia and northern Florida, the National Weather Service issued a rare "high risk" alert for severe thunderstorms, including strong tornadoes. The alert, which lasted through Sunday afternoon and evening, was the first of its kind issued since June 2014.
"These storms have resulted in loss of life, numerous injuries and extensive property damage, and our thoughts and prayers are with Georgians suffering from the storm's impact.," he said. "I urge all Georgians to exercise caution and vigilance in order to remain safe and prevent further loss of life or injuries."
Fatal tornado in Mississippi
Preliminary damage assessments conducted in Hattiesburg, Mississippi, on Saturday showed a tornado packed winds reaching between 136 and 165 mph.
It killed four people and injured more than 50 people in Forrest County, the Mississippi Emergency Management Agency reported. Most damage was near the cities of Hattiesburg and Petal.
Mississippi Gov. Phil Bryant declared a state of emergency.
In Alabama, 15 counties reported storm-related damage. Four people were injured in Choctaw County, said Greg Robinson of the Alabama Emergency Management Agency.
Read more: http://www.cnn.com/2017/01/23/us/severe-weather/index.html