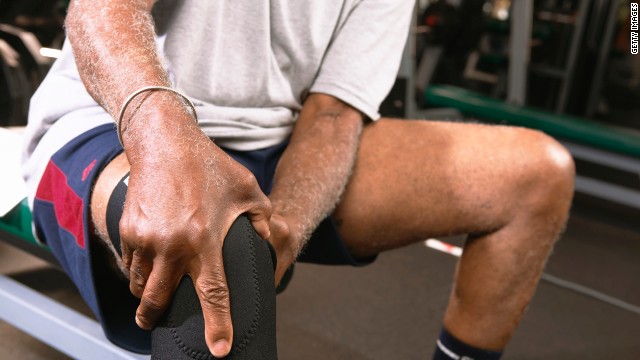 (CNN)Exercise, an online pain-coping skills program and Skype sessions with a physiotherapist helped relieve patients' chronic knee pain, according to a study published Monday in the journal Annals of Internal Medicine.
Half of all adults will develop knee pain due to osteoarthritis, one of the most common causes of knee problems. Osteoarthritis occurs when cartilage breaks down, leading to pain, swelling and difficulties moving the joint. Since a large portion of sufferers are younger than 65, they could require decades of therapy to lessen their pain.
The new study was designed to investigate "the efficacy of a combined internet delivered treatment package including education, Skype-delivered exercise physiotherapy and an Internet-based interactive pain-coping skills training program," said Kim Bennell, lead author of the study and a research physiotherapist and professor at the University of Melbourne.
Social benefits
Bennell and her colleagues recruited 148 participants across Australia, all of them over age 50, and randomly assigned them to one of two groups.
One group of 74 participants received online educational materials, an online pain-coping skills program and seven Skype sessions over the course of three months with a physical therapist. They also received exercise-related equipment including ankle weights and resistance bands.
The second group received only identical educational materials delivered online.
Bennell and her co-researchers measured pain and physical functioning in both groups at the start of the study, at three months and again at nine months. In particular, they asked participants to rate their pain while walking based on an 11-point scale. They also asked about quality of life and possible changes in pain and functioning.
At the end of the study, all the participants from both groups reduced their knee pain and had improvements in function. Yet only the Skype call group showed significant gains. Positive results were sustained across nine months for both groups.
He pointed out that one example would be a soccer player who, in her late teens, sustained a knee injury requiring surgery, such as an ACL reconstruction. By the time this woman reached age 30, she would have about the same risk of developing osteoarthritis in the next couple of years as a woman who is 80 or 90, he explained.
Her body is the same age as that of an 80-year-old, he emphasized.
"It is really a staggering implication," Eakin said. "With all the focus we have on sports injuries and sports safety, that's probably one we're not paying enough attention to right now."
Read more: http://www.cnn.com/2017/02/20/health/knee-pain-internet-exercise-program/index.html