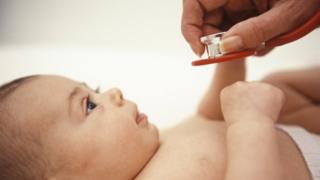 Child health in the UK is lagging behind that of most other European countries, a major report has said.
It raises particular concerns over rates of obesity, mental health issues and mortality among the young.
The in-depth report, from the Royal College of Paediatrics and Child Health, emphasised that poverty was at the root of many child health problems.
The government said 16bn was being invested in public health services to tackle health inequalities.
The report looked at 25 health indicators, including asthma, diabetes and epilepsy, as well as obesity, breastfeeding and mortality, to provide a snapshot of children's health and wellbeing.
It says there had been huge improvements in child health in the UK in the past 100 years, but since the mid-1990s "there has been a slowing of progress".
This has left the UK falling behind other European nations in a number of league tables.
For example, in 2014 the UK had a higher infant mortality rate (of 3.9 per 1,000 live births) than nearly all comparable Western European countries.
Infant mortality ranges from 3.6 in Scotland to 3.9 in England and Wales, and 4.8 in Northern Ireland.
Rates of smoking during pregnancy – an important factor in the health of babies – are higher in the UK than in many European countries, at 11.4% in England and nearly 15% in Scotland.
Smoking during pregnancy was highest in deprived populations and in mothers under 20, the report found.
---
Analysis
By Hugh Pym, BBC health editor
In 2010 a ground-breaking report for the government in England by Sir Michael Marmot set out the social factors governing health and pointed to the role of a child's early years in determining life chances.
Now, leading child health experts are saying that little progress has been made since then and that health inequality is still blighting the lives of young people.
The Royal College of Paediatrics and Child Health is arguing that what it calls the wide gap between rich and poor is damaging infant health around the UK.
The college president, Professor Neena Modi, argues that a lot more needs to be done to improve child health and that it is "particularly troubling" that "stark inequalities" have widened in the last few years.
---
Diabetes on the rise
According to the report, there was also evidence that young people in the UK had low wellbeing compared with other comparable countries.
And data shows that type-1 diabetes is an increasingly common condition among children and young people in the UK, making it the sixth top country in the world for new cases diagnosed each year.
The report lays out a number of key recommendations for improving the health and wellbeing of the nation's children.
These include:
each government developing an evidence-based child health and wellbeing strategy
ensuring universal early years' public health services, such as health visitors and school nurses, are prioritised and supported
promoting good nutrition and exercise before, during and after pregnancy
ensuring children who are overweight or obese can access services to help them lose weight
introducing statutory and comprehensive personal, social and health education in all schools
training all child health professionals so they can deal with children and young people with mental health problems
The State of Child Health report said poverty left children from deprived backgrounds with far worse health and wellbeing than children growing up in affluent families.
In 2015-16, 40% of children in England's most deprived areas were overweight or obese, compared with 27% in the most affluent areas.
One in five children in the UK is living in poverty, the report says.
The report urges the four governments of the UK to reduce the growing health gap between rich and poor children.
Professor Neena Modi, president of the Royal College of Paediatrics and Child Health, said she was disappointed by the report.
'All-society approach'
"We know the adverse economic impact of poor child health on a nation and yet we singularly seem to be incapable of doing anything substantive about it."
Prof Modi said other European countries had much better results than the UK in closing the health gap between rich and poor children.
"Their policies are much more child friendly and child focused," she said.
"We have a tokenistic recognition of the importance of child health in all policies in this country, but we don't have that translated into real action."
She added the UK could transform the health gap with an "all society approach".
"As citizens we can say very loudly and clearly we do want a focus on child health and wellbeing… we can bring in child health in all national policies and make sure our government does have a strategy that crosses all departments."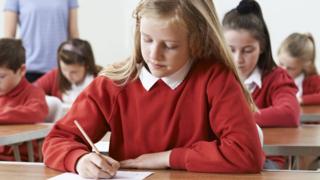 A spokesman from the Department of Health said it would be investing more than 16bn in local government public health services to help tackle inequalities.
"There is more to do, but we have shown that we are willing to take tough action to protect public health and especially that of children – by banning smoking in cars if children are present, introducing a soft drinks industry levy and publishing a comprehensive childhood obesity strategy," he said.
'Priority'
Aileen Campbell, Public Health Minister in Scotland, said: "We agree that our children's health should be a priority for all."
She said the Scottish government had:
made progress in reducing the damage done by tobacco
increased the proportion of healthy-weight children
improved the country's relationship with alcohol
And it would now be focusing on delivering a child health and wellbeing strategy for Scotland.
A Welsh government spokesman said it would be addressing health inequalities in Wales as part of a new healthy child programme.
Read more: http://www.bbc.co.uk/news/health-38743765