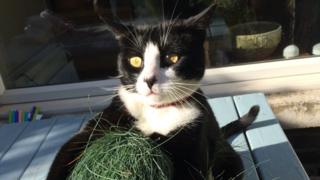 When your husband is having chemotherapy and you're under pressure at work you really don't need anything to go wrong, writes Sue Elliot-Nicholls. Like the cat getting stuck – really stuck – on the roof.
It's the summer of 2016, Brexit has just happened, my poor husband is in hospital having hideously aggressive cancer treatment, and I'm due to spend a week filming a TV sketch show. Things must run smoothly.
Guess what? They don't.
My 14-year-old son develops a highly contagious skin infection, leaving him looking like a bit-part player in a cheap zombie movie. He can't be anywhere near my husband because of the risk of infection so I'm running between A&E on the ground floor and the cancer ward on the 10th, ripped apart by divided loyalties.
In the end I call my 20-year-old son for help. He comes straight from a 48-hour rave, glassy-eyed, dry-mouthed and very smelly. As he escorts his little brother out, I can almost see the nurses' eyes rolling.
But compared to what is to come, this is nothing.
After two days back home, my brave husband passes out from the effects of daily radiotherapy and high doses of chemo, so he is re-admitted as an in-patient.
My oldest son, now sober, rested and smelling fresh as a daisy, agrees to take over hospital visiting duties.
Things seem to be back on track, until I arrive home late at night and notice that our cat, Bones, isn't around.
Youngest son points out that he hasn't seen him all day, or the night before. Rattling the cat-food box and calling his name, I can hear a cat pathetically meowing in response to my calls.
"Bones?"… "Meow."
"Bones, where are you?"… "Meow."
"CAT?"… "MEEEE-OW!!!"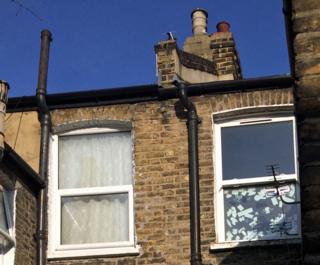 The boys and I tear around the back yard trying to locate the source of the cries.
They decide he must be trapped in the garden that backs on to ours, the one that belongs to the empty (alarmed) house, so they get the ladder out to climb over the wall.
Me: "What do you think you're doing? It's alarmed!"
Boys: "Calm down mum, why are you so stressed?
Me: "Oh I dunno, your dad's got cancer, we can't find the cat and I'm being picked up for work in four hours, what could possibly be stressing me out?"
I send them to knock on neighbours' doors while I investigate in the next street. I've read about how cats can get stuck in sheds and cellars and the like.
After 20 minutes of trying (and failing) to get our non-English speaking neighbours to check their cellar, their daughter comes down the stairs, sweetly smiling.
"I love your cat, he comes into me and my sister's bedroom, what's his name?"
"Bones," I say, inwardly screaming. "Never mind his name! Is he here?" He's not.
I now have *looks at watch* three hours until I have to get up for work.
I try next door. A doddery old boy answers and tells me he hasn't seen the cat, although he has heard it and is it anything to do with the two louts currently climbing over the wall into the garden of number 34?
I fly home like a banshee, and scream in a Peggy-Mitchell-like fashion. The boys climb down, looking at me with a mixture of fear, contempt and, worst of all, sympathy.
We are silent for a while, freaked out by what we have become. That's when we see Bones, his sad little black-and-white face dimly lit in the moonlight. He is stuck on the chimney stack.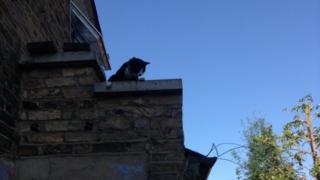 "Bones? Get down, how did you get up there?"
Bones doesn't answer. Bones doesn't come down. Bones just stares at us with a tragic look on his face, meowing into the cold night air.
That's when the oldest son suggests climbing out of his bedroom window on to the roof to get the cat.
"No! Are you crazy? That's all I need, dad in hospital, the cat on the chimney and you with your legs dangling through the roof. NO. Do not even think about it."
I call the RSPCA 24-hour helpline to see what they can suggest.
A reassuring lady with a motherly voice talks me down.
"Have you got any tinned fish? Leave that out for him, I expect he'll be down in the morning. If he's not, call us again – and don't worry, try and get some sleep."
I fall into bed, shaking, trying not to think about work in two hours, the cat, my husband and what a harridan of a mother I've been to my poor kids, who were, after all, only trying to help.
The next morning at dawn my heart leaps – all the fish has gone! But it sinks again as I realise that Bones is still up there, his meows getting weaker, his eyes wider. Another crafty cat has taken advantage of the situation and eaten the bait.
When I get home that night Bones (AKA that bloody cat) is still up there. I think he's going to die on the chimney in front of our eyes. How will I tell my husband? He loves that cat more than his family!
I call the RSPCA again and repeat the whole sorry tale, shamelessly using the cancer to pull on their heartstrings. It doesn't work.
"The cat will be OK for another night. If it's still there tomorrow, call us and we will send someone out."
Stupid cat, stupid stubborn cat, he got up there, why can't he just come down? If only my husband was here, he'd know exactly what to do.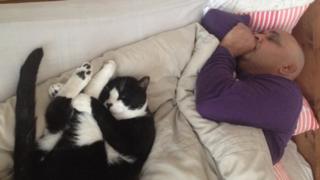 I begin to do my breathing exercises. Tomorrow I have a day off, tomorrow it will all be fine.
Day four – tomorrow – has come. I resolve not to leave the house until Bones is safely off the roof.
I call the RSPCA who say they are very busy and can't send anyone out after all.
I call the fire brigade who tell me the RSPCA need to assess the situation first.
I call on the neighbours. They too are worried. Half the street is out offering suggestions/tea/sympathy.
Colin the decorator brings out his ladders – but they don't reach. The teenagers at number 30 are dangling chicken out of their skylight.
I call various cat charities, and the council. They all suggest the RSPCA. Or the fire brigade.
It is now late afternoon and I am crying. My kids are more worried about me than the cat. What's worse is that I haven't seen my husband for three days. I decide to leave the cat where it is and go to the hospital.
That's when it occurs to me, my light-bulb moment, on the top deck of the bus. I got Bones – a stray – through a cat lover on Twitter. She has thousands of cat-lover followers. Perhaps Twitter could save the day? I tell @peachesanscream the whole sorry story. "Don't worry," she says. "We'll sort this out."
She tweets, copying in the RSPCA: "Family in trouble, husband has cancer, cat stuck on roof for 3 days, anyone in the area that can help?"

It works like magic. While I'm still on the bus, tweets come flooding in from roofers, cat lovers and other kind people. They're coming in too fast for me to process. I'm about to reply to some of them, when my phone battery goes flat. Will nothing go right?

Deflated, exhausted, I arrive in the cancer ward holding back the tears.
My oldest son is there, on the phone as usual – but it's not what I expect. My husband whispers: "Sssh, it's the RSPCA."
It is by now 5pm and the RSPCA, probably concerned about the many Twitter messages they're copied into, and harassed by my son, who has been calling every hour, finally offer to help. They can arrange for the fire brigade to come, is anyone home? Yes, yes! I call my youngest son, who is – thank goodness – at home.
Twenty minutes later youngest son rings to report that the fire brigade came round, climbed up a ladder and calmly grabbed Bones by the scruff of his scrawny neck. They brought him down to the rapturous applause of the entire street. The pesky cat was rescued.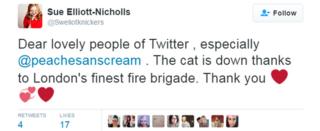 Me: "Have you fed him?"
Son: "Yes, and I gave him a hug."
Me: "Aw, what did the firemen say?"
Son: "I didn't give him a hug in front of the firemen! They're men, like real men."
Euphoric and exhausted I squeeze into the hospital bed next to my brave and stoic husband. I think about how great my family and neighbours are, how men and boys are not as flaky as we girls often paint them.
Then it occurs to me… There were firemen in my house, there were actual firemen in my house, and I wasn't even there to flirt with them.

Post-script: Sadly, Bones has since succumbed to a kidney infection. Sue's husband is still waiting for the all-clear. And a new kitten has been adopted – from the RSPCA.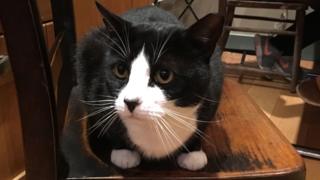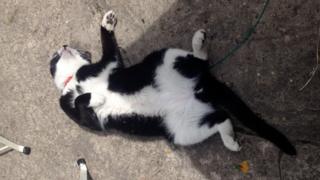 Join the conversation – find us on Facebook, Instagram, Snapchat and Twitter.
Read more: http://www.bbc.co.uk/news/magazine-38182248