Have you ever been in the middle of a bike ride and thought, You know what would really make this better? If I were biking inside of a bus!
If you're one of those progressive souls who said yes, then we have some great news for you.
A couple in Boston has created "BikeBus," a commuter bus equipped with bikes that drops you off at work or at home. Attorneys Seema and Eric Brodie say they hope to turn daily commutes into physical activity.
"Everybody has that dreaded commute," Seema Brodie told HuffPost. "We wanted to change how we commute in the future."
Each bus ride will cost around $30, and workouts last 45 minutes. If you sign up, be prepared to step up your game one recent class pedaled double-time to "Greyhound" by Swedish House Mafia.
The company currently has one prototype bus with nine Schwinn bikes and hopes to run between the western Massachusetts suburbs and Boston this fall. So far, the bus has primarily hosted private rides, like birthday parties or corporate wellness events.
The Brodies say their project has generated interest among people who live farther away from Boston and typically take a car or commuter rail into the city.
"It's not as much for local use as it is for the suburbs to the city, where it's hard to ride a bike in," Eric Brodie said.
It's a fun idea, but will it catch on? It's definitely possible, considering people these days are working out by surfing on land, attending 7 a.m. raves, and even pole dancing.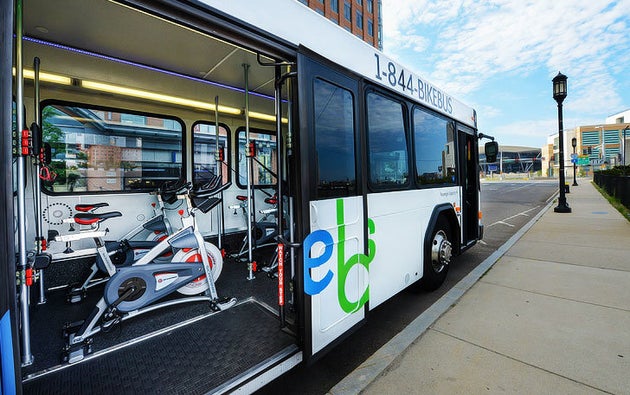 Read more: http://www.huffingtonpost.com/entry/bike-bus-boston_us_579222cce4b00c9876cf0b09?section=