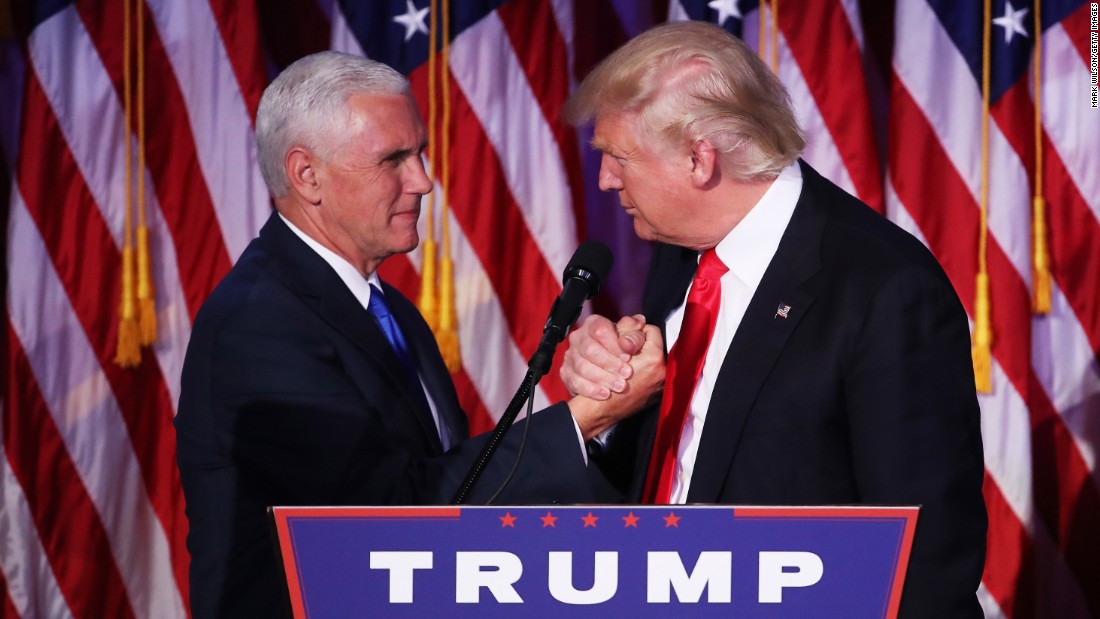 Washington (CNN)Vice President-elect Mike Pence is filling an ever-bigger role in the growing administration of Donald Trump, marked by Friday's announcement that he would take over the transition efforts, as the Washington expert who can trade on years of relationships.
The timing of Pence's ascension inside the Trump team — as Trump and his family turned their focus from the election win to the business of running the nation — also speaks to the growing relationship between the two running mates.
"President-elect Trump will bring about fundamental change in Washington, and these are the right people to make that happen," Pence said in a statement Friday.
A senior Trump adviser said Friday that the decision to replace New Jersey Gov. Chris Christie with Pence was made in part because of the possible federal indictment over Bridgegate and also loyalty — Pence stuck by Trump after the infamous "Access Hollywood" tape surfaced.
Pence's bona fides among Washington Republicans were re-affirmed this week after Tuesday's victory,with House Speaker Paul Ryan and Senate Majority Leader Mitch McConnell praising him and opening their doors to him.
And he is expected to have a role in any Trump legislative push, including repealing Obamacare. The former congressman toured his old stomping grounds Thursday with Trump, walking out on the speaker's balcony facing the National Mall while Ryan showed the growing inaugural setup for Trump.
Pence did not take any questions from reporters as he left the Capitol, and his staff say they are still digesting Tuesday's stunning victory.
The role Pence will play inside the Trump White House is at the front of many people's minds right now.
"He will be him, that's the way he's always been, but I think you're going to see the because of the experience that he brings or will bring to the role — he experience on the Hill the policy side, the relationships with leadership and with members in both chambers, I think you'll see him play a large role in that," said one Pence aide, who spoke on condition of anonymity to talk openly about internal discussions.
Trump and Pence do not have a long relationship, but they speak daily now and have throughout the campaign, and Pence has often said he has grown to respect Trump. At a critical moment in the campaign, after Trump's comments about groping women in a 2005 video came to light, Pence wavered, but ultimately decided to stick by Trump.
Asked where Pence ranked among Trump's other top advisers, one Pence aide noted that the incoming vice president already has strong relationships with many of them — including Trump campaign manager Kellyanne Conway, who was Pence's longtime pollster.
Pence, meanwhile, joined Trump Thursday on his whirlwind tour of DC. Pence met with Vice President Joe Biden, an old colleague from Congress, and the two talked about their time there and the policy areas Biden handled for the Obama administration.
Indeed, the relationships Pence built over 12 years in Congress, while raising his family in Washington, are likely to be called on almost immediately as Republican leaders look to repeal Obamacare — an item which will require close coordination with congressional Republicans.
If you're Pence, "the Hill is your domain. Think of it in terms of the health care repeal — who runs point on that on the Hill?" said a top Indiana Republican, who spoke on condition of anonymity to discuss likely roles for Pence.
Pence has already been invited to the Senate for weekly meetings of Republicans there, and McConnell speculated he may serve as a good sounding board for lawmakers' concerns.
"We all really like Mike Pence. If you've asked any of us who've served with him, everybody likes him," McConnell said Wednesday. "I would just mention the way Vice President (Dick) Cheney worked with us. He was at many of our Tuesday lunches. And you know Dick Cheney was a classic guy who didn't necessarily say anything all the time. But he was like a sponge absorbing what our concerns were. And he acted almost like President (George W.) Bush's Senate liaison."
Vice presidents often have room to craft their own roles based on how they complement the president, but vice presidents in the modern era have often filled roles as advisers based on how they were selected, said Elaine Kamarck, a senior fellow at the Brookings Institute and a former aide to former Vice President Al Gore.
"It's very possible that Pence becomes a first among equals in the Trump White House," said Kamarck. "A lot of that is going to depend on whether or not Trump grows to trust him … In the end, it's really about the relationship between the two people."
Read more: http://www.cnn.com/2016/11/11/politics/mike-pence-vice-president-style/index.html