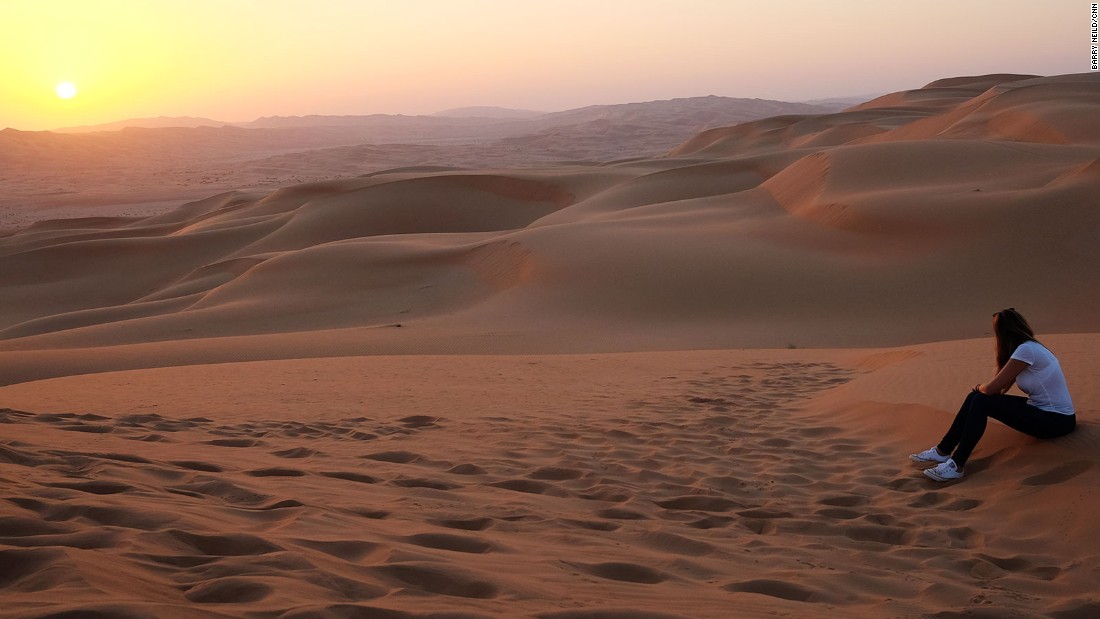 (CNN)Inside its grounds, the Qasr Al Sarab hotel has all you'd expect from a high-class UAE resort — luxury villas, private pools, top-notch restaurants and a fully equipped spa.
Beyond the walls, it's got one feature that few others can match.
Sheer beautiful nothingness.
That's because the Qasr sits perched on the edge of the world. Or at least on the edge of the Empty Quarter — Rub' al Khali in Arabic — the planet's largest uninterrupted sand desert.
Stroll out past the hotel's Royal Pavilion and head south: It's just mile after mile of shifting dunes, right up until the dusty highway and fence that marks the Saudi Arabian border.
That remoteness, and the staggering allure of this sun-scorched wilderness, are what make the Qasr one of the best hotels in Abu Dhabi, an emirate not short of five-star contenders.
For the folks running this distant outpost of civilization, it presents a very specific set of problems — chiefly, how to stop the place being swallowed whole by the desert.
And how not to hurt the very environment that makes it so special.
Shimmering illusion
The constant struggle with the desert does not stop the Qasr making efforts to protect it, particularly crucial in an area that's designated a protected natural reserve.
Water is recycled or pumped in so as not to burden precious local aquifers. The resort also runs a breeding program to reintroduce Arabian oryx antelope back into their natural habitat.
Hotel guests are encouraged to engage with these beautiful surroundings via a range of activities including camel treks, desert walks, sandboarding and falconry.
A dawn fat-tire cycle ride — when the sands are sometimes bathed in an eerie fog — offers an exhilarating chance to get among the dunes and enjoy desert silence.
Noisier, but no less exhilarating, are dune-bashing excursions in the hotel's big Toyota 4x4s that culminate with a dune-top tea party as the sun sinks over the dusty horizon.
Vehicle tires are deliberately deflated from 30 to 14 psi to get a better grip as they careen over vertiginous drops that often leave stomachs struggling to cope.
The experienced drivers know how to keep their 4x4s from rolling or getting stuck in the sand. They keep to specific routes to avoid disturbing the wildlife.
They also know when to stop to prevent a queasy guest from ruining the upholstery.
"We can sense it when someone's about to go," grins one driver, Shalika. "We always manage to pull over in time."
Says Braik, some guests still need reassurance about the desert beyond the hotel's walls.
"I'm asked if it's dangerous to walk outside on the sand," he adds. "Guests are sometimes scared of scorpions and snakes, but it's really safe."
That said, it's wise not to go too far without a guide.
Hotel staff recall receiving a mobile phone call from one group of guests who had to be picked up after striking out in the direction of Saudi Arabia and getting lost.
"They told us, 'we're by the big sand dune.' Well look around you. In this place, that could've been anywhere."
Sheer beautiful nothingness.
Read more: http://www.cnn.com/2017/02/10/hotels/abu-dhabi-best-hotel-qasr-al-sarab-uae/index.html