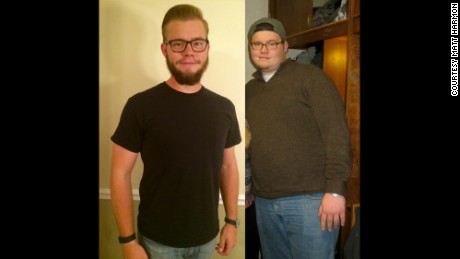 (CNN)For most of his life, Matt Harmon couldn't find a reason powerful enough to make him care about his health. It wasn't until his life fell apart that he realized he was "broken" and needed to rebuild from the ground up.
Even as a child, nothing could overwhelm his obsession with food. His mother, who had lost her father as a teenager because he didn't take care of himself, tried to help Harmon eat less and be active. But neither her worrying nor his family history really reached Harmon.
And even though he was teased in school for being overweight, Harmon developed and hid behind a defense mechanism: being the "funny fat guy."
"When people laugh, it's fulfilling," Harmon said. "Filling that role enabled me to be a social chameleon and slide between friend groups."
In a recent post on his
Backyard Banter blog
, where Harmon revealed his story, he recalled making a comment as a child that became his view on food and life: "We don't really care about the quality of food anymore, just as long as there is a lot of it, and it gets to us quickly."
Harmon remembered saying that with a childhood friend, who was also overweight. "I was just obsessed with food and consumed by it, and it didn't have limits," he said.
That same month, he also committed to a total lifestyle change. Harmon put himself in therapy and saw a counselor. He realized that if his life was worth living, he needed to start with his health.
"If I want to feel better, I have to look in the mirror and be satisfied," Harmon thought.
Harmon started going to the gym six days a week, alternating cardio and weightlifting. He cut out carbohydrates and sugar, mainly eating eggs, lean meats and green vegetables. In eight weeks, his weight dropped into the 260s, and he watched his transformation in the mirror as muscles replaced fat.
Encouraged by the impact of the changes he had made, Harmon moved away from his strict diet and discovered a healthy balance that he could maintain. All the while, he was still losing weight, working toward his dream of being a football writer and even adopting a dog, Charlie, to keep him active with daily walks.
When NFL Media offered him a job and he moved to Los Angeles from Northern Virginia, Harmon weighed 231 pounds. But his first season as a football writer, and living in L.A., provided new temptations of free food and cut back on the amount of time he could spend at the gym. He gained back 10 pounds by the end of the season but didn't let the setback deter him from his lifestyle change.
In the offseason, he has maintained a six-day workout plan that incorporates running, weight training and yoga. Harmon is also back to a more strict diet including egg whites, kale, lean meats, fish, broccoli, Brussels sprouts and brown rice. He weighs 218 pounds, but that's not the end of the road for his journey to wellness.
"My goal is to never be satisfied," Harmon said. "Not with my health or career or anything else. I look and feel good, and I'm at an acceptable stopping point, but I always want to feel that there's always more I can do."
Harmon has a plan for his second season as a football writer and how to avoid inevitable temptations by thinking about how far he's come and the bigger picture. And by sharing his story, which quickly spread on social media, Harmon now feels accountable to his friends and family as well as his followers on Twitter and those who shared their own stories.
The positive reactions to his story also encourage Harmon to keep striving for more and he hopes to inspire people by sharing more in the future.
"I want to be an example and show that you can beat something like this and come out on the other end," Harmon said. "Change is possible. The things that I went through happened for a reason. I feel like I'm the luckiest idiot in the world. If the person I was could do it, you can, too."
Read more: http://www.cnn.com/2016/05/20/health/turning-points-matt-harmon-lifestyle-change-100-pound-weight-loss/index.html